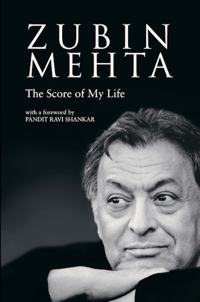 by Zubin Mehta with Renate Gräfin Matuschka
Amadeus Press
224 pages, photos;  $27.99 US
"As a conductor," writes Zubin Mehta in this memoir, "I see in myself a friendly cultural policeman who shows people the way and directs everything." Mehta is a self-described generalist – his conducting does not bear a personalized stamp, and his repertoire is too broad to provide him a distinctive niche. But his accomplishments, both musical and humanitarian, are significant. It's a treat to be able to read about them here.
Mehta is candid about his thoughts on leading an orchestra and interpreting a composer's score. But in spite of the title of his book, when it comes to the 'score' of his life he is more reticent - whether because of a reluctance to offend, or the presence of his second wife, actress Nancy Kovack, who has contributed a few pages of her own here. Perhaps understandably, there's no acknowledgement of his intense relationship in the 1960's with the great Canadian soprano Teresa Stratas, even though she is mentioned twice. But it's odd that he is reluctant to write much about the event for which he is best known, the first - and most magical - Three Tenors concert, and the three singers involved, Carreras, Domingo and Pavarotti.
He discusses great conductors from the previous generation, like Bruno Walter, von Karajan, and especially his beloved teacher Hans Swarowsky. But there's little about conductors of his own generation, except for his friend Daniel Barenboim. There is even less about younger conductors like Kent Nagano, who has assumed two of his most long-standing positions, at the  Munich Opera and the Montreal Symphony.
Mehta is a compassionate and amusing storyteller. I especially enjoyed his descriptions of his early life in India as part of a remarkable family belonging to the tiny Parsi religious community. His exceptional loyalties, especially to the Israel Philharmonic Orchestra, yield unique relationships, and show how his stated credo, to give audiences 'a chance to forget their troubles and their disagreements for at least a couple of hours' is in fact far more meaningful – and valuable - than it sounded when I first read it.
Mehta's ties to Canada are strong, especially with both children from his first marriage (to a Canadian) now living here. His son Mervon Mehta recently became director of the Royal Conservatory of Music's new concert series in the just-opened Koerner Hall.  Reading Mehta's compelling voice here leads me to hope that we will again be able to hear him conduct in Toronto, after many years away.
Pamela Margles, theWholeNote's regular book reviewer, can be contacted at
bookshelf@thewholenote.com