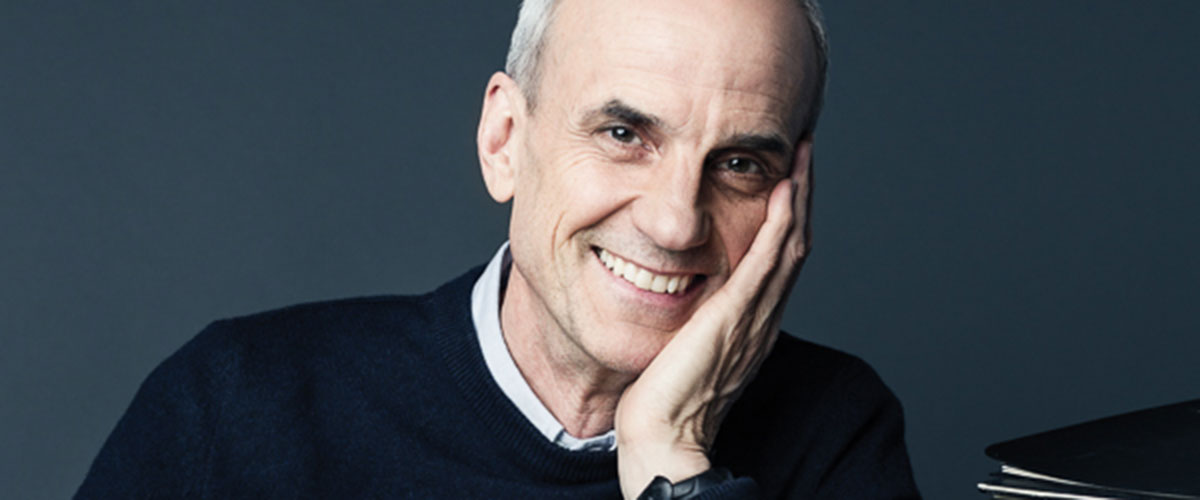 "..., but Bach didn't write a Bassoon Concerto!"
That was the reaction of the Toronto Symphony's principal bassoonist, Michael Sweeney, as he related the story to me in May of this year. I'd had a similar reaction somewhat earlier when the TSO's concertmaster, Jonathan Crow, emailed me a photo of a CD jacket listing "Johann Sebastian Bach, Rediscovered Wind Concertos" and asked, "How possible would it be to get the parts for any of these?" Something unusual was in the works.
As principal librarian of the Toronto Symphony, I've often thought that I have the greatest job in the world for gaining an appreciation of music. After researching, sourcing, acquiring and preparing those printed pages from which every musician on stage reads (a process that usually takes place over several months), I hear all the rehearsals (where the tricky spots are worked out) and then the concerts. Of course, my listening takes place over the sound monitor in the TSO Library, while I'm working on music to be performed in the months ahead. Best of all, I get to know the players. They all need to practice those printed pages, so everyone comes to the library. As I'm listening, I don't just hear an instrument, I hear a person. It's a fantastic experience and I often ponder how I might share it with our audience. This is a story about several of those players, their friendships, and their regard for one another. It's my privilege to tell it – mostly in their own words.
In any normal year, the TSO would announce its events for the coming season in February. The 2021-22 rollout was delayed as we, like every arts organization, strategized around pandemic-gathering restrictions. "How many musicians will we be able to put on stage?" "Will we even be able to host a live audience?" "How long should the concert be?" "Intermission?" and "What if the guest conductor from Europe can't get into the country?" These were the overriding questions of the time. In the midst of it, Jonathan Crow came up with an idea that turned adversity to advantage.
"The idea of a smaller-ensemble, player-led "All Bach" concert at the TSO grew out of the extraordinary success of the Vivaldi, Four Seasons project in the previous year," explained Jonathan (over the phone while on his elliptical machine – evidently time management is among his many super powers). "But instead of just one soloist – me – I wanted to showcase several members of our orchestra. After all, they're some of the best on their instruments in the world. Nothing had really been decided when the pandemic shut everything down, preventing any of us from gathering to perform – so the whole program went into a holding pattern."
The concert will also feature Chelsea Gu, the Grand Prize winner of the Play Along with Jonathan Crow Challenge, a collaborative initiative between Toronto Summer Music and the TSO. "The challenge got an enormous response from the community," Crow says. "We had over 70 entries with ages ranging from seven to 80. There are several winners, who will be featured at both TSM and TSO events. [Violinist Lincoln Haggart-Ives will play with Jonathan on the February 6, 2022 TSO Young Person's Concert.] [But] Chelsea's submission so impressed the jury that it was obvious we needed to include her in the evolving Bach program."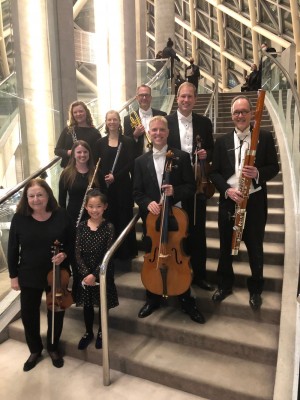 Bach among friends: gathered on the Grand Staircase in the west lobby of Roy Thomson Hall. Back row (left to right): Sarah Jeffrey (oboe), Leonie Wall (flute), Andrew McCandless (trumpet), Jonathan Crow (violin), Michael Sweeney (bassoon) Second row (left to right): Kelly Zimba Lukić (flute), Joseph Johnson (cello) Front row (left to right): Amalia Joanou-Canzoneri (violin) and Chelsea Gu.
Chelsea Gu is no ordinary nine-year-old. She speaks in complete sentences and with humility and purpose that would be admirable in a person of any age. "I was already playing the piano, but wanted to try the violin too. I had started taking lessons with Amy Canzoneri [a TSO violinist] in February of 2019, but then COVID prevented us from meeting in person. We continued on Zoom. Amy is very strict about the fundamentals of playing in tune, with precise rhythm and with a beautiful tone. I love that kind of detailed work."
"I knew right away that she is extremely gifted," says Canzoneri. "She absorbs concepts quickly and loves to practice. Her musical instincts come from her heart. It's a great joy to teach her!"
Chelsea continues, "My Dad brought home some CDs that Amy recommended and I got to know the "Bach Double" [Two-Violin Concerto, BWV 1043] from the recording by David and Igor Oistrakh. When I saw the contest to play this piece with Jonathan, I just decided it was something I wanted to do."
A lot of us may look back and ask ourselves, "What did I accomplish during the pandemic?" Chelsea Gu can say, "I started playing the violin and got good enough to play with the Toronto Symphony." (Adversity to advantage!)
I like to take at least partial credit for Joseph Johnson becoming principal cellist of the TSO. He and I were at the Grand Teton Festival together and he was scheduled to play a concerto for two cellos with Lynn Harrell. The page turns in the part were impossible, so my first contact with Joe was when he asked me to split the original two-stave part into two single-staff parts. The performance was remarkable, as was his leadership of the cello section, so I suggested to Joe that he might consider our principal cello position, which was open at the time. At the end of his audition in Toronto, the committee stood up and applauded.
Joe can be a late-night practicer and one evening, after a concert, he was setting up in our dressing room to run through a solo recital he was to perform the next day. Only the two of us were around, so I asked, "Is this the dress rehearsal and can I listen?" He agreed and I seated myself two feet in front of him, watching every detail of his playing. There was never any concern about simply playing the correct notes; He was searching, striving for precise sonorities and inflections – and I sat mesmerized, awash in his sound. In a lifetime of musical experiences, this is one I shall always remember. Joe will begin the TSO's Bach program with the Prelude from the Cello Suite No.1.
Talent runs deep at the TSO. While still a student at McGill University, our second flutist Leonie Wall won the principal flute job at the Orchestre des Grands Ballets Canadiens in Montreal. She was also a winner of the prestigious New York Flute Club Competition just before joining the TSO in 2004. Notes Jonathan, "Leonie and Kelly [Kelly Zimba Lukić, principal flute] are always working to achieve a balanced and flexible sound in our flute section and the Brandenburg Concerto No.4 brings that teamwork to the front of the stage."
"I just love this piece," says Leonie. "After such a long separation from my colleagues, it's wonderful to have this opportunity, especially as a second flutist, to perform in such a prominent ensemble role."
Kelly adds: "Ten years ago, I heard the Pittsburgh Symphony perform the complete Brandenburg Concerti. It was a revelation to hear the instruments stand out in this context. I thought to myself, I hope I'll get to play these someday. I've played two before, but not four, and it will be especially meaningful to play with Leonie."
Next on the program will be Michael Sweeney's mysterious Bach bassoon concerto mentioned earlier. "This music exists in two versions in Bach's collected works, neither of which is a bassoon concerto," explains Michael. "It first appears as three separate movements in two different Cantatas [BWV 169 and 49] that were written two weeks apart in 1726, with the organ playing the solo line. Twelve years later, Bach repurposed these movements to form his Keyboard [Harpsichord] Concerto No. 2 BWV 1053, but with upgrades. Changes to the harmony and refinements of the counterpoint and voice leading are all consistent with Bach's greater experience as a composer, but most significantly, he wrote far more florid versions of the melodies." Michael will play these later versions as his Da Capos [repeats of the opening musical material] in movements one and three. "The practice of the time was for performers to improvise their own ornaments and scholars today debate endlessly as to exactly how that was done. This concerto shows how Bach himself did it!"
For these performances, Michael has created an entirely new score and parts to match his own vision for this reconstruction of a bassoon concerto with oboe d'amore obbligato (to be played by principal oboe, Sarah Jeffrey). I can attest to it taking him most of these past seven months. As I write this, he's just finishing the string parts. (Adversity to advantage, once more!) Audience members who want to hear this piece again should come back to the TSO in February when pianist Angela Hewitt will play it as the Keyboard Concerto No.2.
There will be a lot of familiar tunes on this program, but none more immediately recognizable than the famous Air on a G String, the second movement of Bach's Orchestral Suite No.3. "Its simple melody provides a lovely interlude amidst some otherwise complex textures," notes Jonathan.
The Brandenburg Concerto No.2 BWV 1047 is a riot of sound. The four soloists, (violin, flute, oboe and piccolo trumpet) toss phrases around, imitating and interrupting each other as if in competition for the listener's attention. "It's an especially difficult piece for the trumpet because it hangs around in the very highest range of the instrument," observes principal trumpet, Andrew McCandless. "Just hitting all the notes can be a major achievement, but then the sound can also be quite penetrating up there. One time, when I was asked to play this, I showed up at the first rehearsal to find my stand positioned off to the side – well away from the other soloists. I was told this was because the trumpet is always too loud. I told everyone, If any of you have to tell me to play softer, I'll donate back my entire paycheck. No one said anything and I got paid. For me, this is an elegant ensemble piece. I try to blend like I'm Sarah's oboe duet partner.
Principal oboe Sarah Jeffrey agrees, "My very favourite role in the TSO is being featured alongside my esteemed colleagues and best friends. In this concert, I not only get to back up Michael in an obligato role, but really mix it up with my other friends for the Brandenburg 2. We often hang out together and it's going to be like one of our animated dinner conversations."
After a 30-year "career" of listening to my colleagues of the Toronto Symphony, I continue to be impressed with and inspired by how good they are at what they do. To develop their level of skill requires dedication akin to an Olympic athlete and their teamwork rivals any sports franchise. Add to that their strong social bonds and you have the magic that will be on full display January 7, 8 and 9, 2022 at Roy Thomson Hall.
Gary Corrin was appointed principal librarian of the Toronto Symphony Orchestra in January 1992.