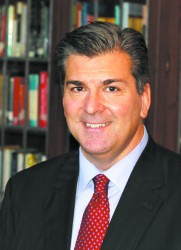 Sometimes second chances take a long time in coming. Fortunately, if you're only 10 or 11 years old, you don't spend a lot of time regretting lost opportunities. You just put it behind you, grow up and get on with the rest of your life — or so you think.
It's been four decades, but the winsome little boy who sang "O Holy Night" to a packed cathedral in St. John's, Newfoundland, has never forgotten what it felt like. Especially since the cathedral in question was the Basilica Cathedral of St. John the Baptist, which, when it was consecrated in 1855, was the largest Irish cathedral outside of Ireland and the largest church in North America — and a full house meant more than 3,000 seats filled.
"I grew up in a large Irish Catholic family with four sisters and three brothers — we were a bit like the von Trapps of St. John's — after supper, we'd get around a piano and sing," reminisces Stephen Handrigan, the new director of the St. Michael's Choir School. "And, of course," he points out, "there's a huge choral tradition in Newfoundland."
The legendary musicologist Sister Kathrine Bellamy was the organist and music director at the Basilica of St. John the Baptist for almost a quarter of a century, but she also worked with several school choirs in St. John's. Handrigan still remembers the many chants she taught, and her favourite Schubert lieder.
For the young boy introduced to sacred music by Sister Kathrine, the highlight of his young life was the prospect of being sent to the St. Michael's Choir School in Toronto, which seemed like light years away from St. John's at the time. But, in the end, the funding fell through and the boarding school experience never materialized.
Handrigan went on to study music and music education at Memorial University in St. John's and eventually pursued a Master's Degree in Music Education from the University of Victoria in British Columbia. After trying out both coasts of the country, he finally made it to Toronto.
All in all, he's been teaching music in schools for nigh on 30 years, including at Upper Canada College and the Country Day School in King City. Between 2003 and 2005, he directed the Conference of Independent Schools' Music Festival. He's accustomed both to seeing the big picture and to being front and centre, because he's also a singer. As a baritone, he put in a stint with the Canadian Opera Company and he continues to be active in his church choir.
Before St. Michael's callled, he had a pretty full life, as a husband and father of two sons and as an administrator with the Toronto Catholic District School Board. To be honest, he hadn't given St. Michael's Choir School much thought. So he was completely gobsmacked when the invitation to be its new director came. That's why he ended up replaying his voice mail message 20 times before it finally sank in.
Upon accepting the position, he found himself immersed in a surreal flurry of meet and greet as he was introduced to the various faculty, staff, committees, students and members of the community he would get to know. He was learning about the rubrics of his job, as he says, "one conversation at a time, with students, parents"— in short, with everyone who could help him piece together the big picture.
It wasn't until he walked into the Founder's Day concert in the middle of October, when he heard the boys singing the descants from Monsignor John Ronan's timeless compositions, that he thought to himself, "I'm in heaven. The hair was standing at the back of my neck, listening to those 300 voices, so poignant and profound."
(Ronan, who founded the St. Michael's Choir School in 1937 and was its principal until his death in 1962, was also a composer of sacred music. While his work has continued to be sung as part of the repertoire of the choir, Ronan's accomplishment as a composer has been sadly overlooked, Handrigan says, pointing to the fact that many of Ronan's 400 compositions sat in the school's archives, unpublished for 50 years. As part of a busy year ahead, Handrigan will be discussing with doctoral candidate Robin Williams, who is cataloguing Ronan's work, how to bring this sacred music to a wider audience.)
For the choir school, things are already busy! First up, and continuing its Christmas tradition, in its 73rd annual concert, the St. Michael's Choir School will be featured in two performances, on Saturday, December 15, 2012 and Sunday, December 16, 2012 at Massey Hall. Conducted by Dr. Jerzy Cichocki, the 270-strong choir will be joined by Teri Dunn, Charissa Bagan and Jakub Martinec, and special guests the True North Brass quintet.
Then, on January 2, 2013, to mark its 75th year, the St. Michael's Choir School will perform a benefit concert, called simply, "A Gift of Music," at Roy Thomson Hall. The proceeds from the benefit concert will be used to support bursaries and scholarships so that no student has to be turned away solely for financial reasons.
Directed by alumnus Andrew Craig, "A Gift of Music" will feature a dazzling cast of alumni that includes, among others, jazz vocalist Matt Dusk, Kevin Hearn of the Barenaked Ladies, bass baritone Stephen Hegedus, Celtic musician James McKie and operatic superstar Michael Schade. The two co-hosts that evening will be actor and alumnus Jim Codrington and jazz vocalist Heather Bambrick. (Bambrick never went to the choir school, but has a Newfoundland connection. Handrigan remembers teaching the young Bambrick, who played the clarinet in school, years before she launched both her singing career and her morning radio program.)
But the busy times don't stop there: As one of only six choir schools in the world affiliated with the Pontifical Institute of Sacred Music in Rome, St. Michael's Choir School provides sacred music for St. Michael's Cathedral of such a calibre that the choir has performed for prime ministers, monarchs and popes. The first time the choir school went to Rome for a papal audience was 42 years ago, and it's been 16 years since it last appeared at the Vatican. That's why their upcoming tour to Italy in April 2013 is such a momentous undertaking.
"I never dreamt I'd be sitting in Cardinal Collins's office talking about a tour to Italy," says Handrigan, who will be leading an entourage of 350, including 180 choir boys. They will sing high mass at St. Peter's Basilica in Rome with his Eminence, Thomas Cardinal Collins, the Archbishop of Toronto, on April 7, 2013. Then, to mark the 25th anniversary of the Canadian Pontifical College, where Canadian Catholic priests go to study in Rome, there will also be a command performance the next day.
This is the time of the year when we all stop both to take stock and to celebrate. December 15, when he hears again the first unforgettable bars of "O Holy Night," Stephen Handrigan will not be the first — and certainly not the last — to marvel at the many twists and turns it has taken for him to finally join the choir. 
Rebecca Chua is a Toronto-based journalist who writes on culture and the arts.