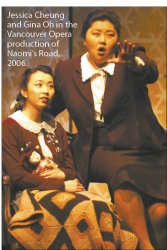 The timing could not be more perfect. Just last month The WholeNote editor David Perlman threw down the gauntlet. The challenge: to begin the work of rallying a team of cross-country WholeNote correspondents. The initiative started in the last issue with Ian Alexander's coverage of music on Vancouver Island. I am picking up the narrative trail at the next stop on the journey from "sea to shining sea" in Vancouver, where in just a few short weeks, Opera Conference Vancouver will be under way.
Opera Conference is an annual international symposium on opera, this year hosted by Vancouver Opera in partnership with OPERA America, Opera.ca, and Opera Volunteers International. The theme of this year's conference is "Opera: Out of Bounds." It has a few meanings, one of which is a play on words. Every year, OPERA America holds its annual conference in a different host city, and 2013 marks the first time in over ten years that the conference is being held outside the boundaries of the US, not seen in Canada since 2002 in Toronto. Most if not all of Canada's opera companies will be there May 6–11, joined by another 400 delegates from opera companies across North America and the world.
More significantly, the theme "Opera: Out of Bounds" reflects the sector's growing imperative to expand the definitions of opera beyond the Euro-centric traditions of the art form and extend its reach beyond the walls of the opera house. Through diverse programming over three days, the conference will explore strategies and deliver learning for connecting with new communities and new audiences, and creating greater value and civic impact. There could not be a better place for such a conference than Vancouver, one of the most ethnically and linguistically diverse cities in Canada, with 52% of the population speaking a first language other than English.
There will be opera too — and lots of it. Running concurrent with the conference is Vancouver Opera's production of Tan Dun's Tea: Mirror of the Soul, in its Canadian premiere. Tea: Mirror of the Soul, an extraordinary fusion of Western opera and Eastern myth, from the Academy-Award-winning composer of Crouching Tiger, Hidden Dragon, will be performed three times over the conference schedule. Vancouver Opera will also present Naomi's Road, a 45-minute opera designed for touring to schools and community venues. Based on the Joy Kogawa novel of the same name that details a young Japanese girl's experience as her family is interned during World War II, Naomi's Road is taken from one of Canada's most painful and complex social periods — one that was not even discussed in schools for years.
Vancouver Opera is a proud member of Opera.ca and OPERA America, two associations that share a long history and reciprocal relationship. In fact, all members of Opera.ca are by default also members of OPERA America, a membership arrangement that brings real value to Canadian members. As a partner in the presentation of the conference, Opera.ca is contributing its own programming and events around the conference.
The first of these is the "Vancouver Co-Production Colloquium," at the very start of the week on Monday, May 6 and Tuesday, May 7. Hosted by Vancouver Opera, at their new production space and corporate headquarters, the O'Brian Centre, the colloquium is a staple program of Opera.ca offered to professional company members every two years. This year, professional companies will come together to explore potential opportunities for new co-production, co-commissions and other ways of collaborating to bring greater value to opera audiences and communities across the country.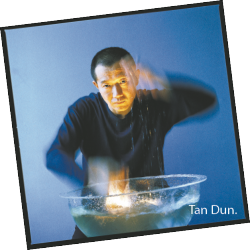 The link between the success of an opera company and the strength and commitment of its board of directors has long been recognized. These volunteers work tirelessly on behalf of their companies. Because of the vast geography of Canada and the fact that most of them work full time as well, the opportunities to come together and learn from each other are few and far between. We are creating such an opportunity on the afternoon of May 7 with "National Opera Directors Luncheon." Opera company board members from across Canada are invited to attend this gathering, to network and learn from one another.
Most conference delegates will have arrived by Tuesday, May 7, in time to be treated to a floating "Welcome Cruise and Reception." The full conference kicks off the next day with a keynote presentation by Don M. Randel, president of the Andrew W. Mellon Foundation. Other notable speakers include Robert Sirman, director and CEO of the Canada Council for the Arts, Douglas McClennan of ArtsJournal and David Gockley, general director of San Francisco Opera. The rest of the conference is a bustling hub of sessions, forums, seminars, break out discussions and networking, organized into "tracks" related to opera company function (technical, financial, artistic, audience development, etc).
A highlight and much-anticipated part of every Opera Conference is the New Works Sampler, and this year, it shares the bill with "Showcase: A Decade of New Canadian Opera," on Friday, May 10, at the Vancouver Playhouse. The showcase is exclusive to conference delegates only.
Showcase is a retrospective look at works funded through the Canadian Opera Creation Fund (COCF), a ten-year initiative made possible by a $2.5 million grant from the Canada Council to Opera.ca, to re-grant in the exploration, development and production of a new brand of opera — opera made in Canada. The COCF program came to a close in 2011, counting some 24 new operas that had premiered on Canadian stages, with another half dozen still in development, as a direct result of this significant and unprecedented investment.
The "New Canadian Opera" portion of the double bill evening of new works features:
Alternate Visions, John Oliver, composer, Genni Gunn, librettist, submitted by Chants Libres; Brothers Grimm, Dean Burry, composer, submitted by the Canadian Opera Company; Filumena, John Estacio, composer, John Murrell, librettist, submitted by Calgary Opera; Lillian Alling, John Estacio, composer, John Murrell, librettist, submitted by Vancouver Opera; Mary's Wedding, Andrew MacDonald, composer, Stephen Massicotte, librettist, submitted by Pacific Opera Victoria; The Enslavement and Liberation of Oksana G, Aaron Gervais, composer, Colleen Murphy, librettist, submitted by Tapestry New Opera; Transit of Venus, Victor Davies, composer, Maureen Hunter, librettist, submitted by Manitoba Opera.
OPERA America's "New Works Sampler" will feature works-in-progress and recent premieres: Khaos, Don Macdonald, composer, Nicola Harwood, librettist, submitted by the Amy Ferguson Institute; Cold Mountain, Jennifer Higdon, composer, Gene Scheer, librettist, submitted by Opera Philadelphia; Sumeida's Song, Mohammed Fairouz, composer and librettist, submitted by Peermusic Classical; The Gospel of Mary Magdalene, Mark Adamo, composer and librettist, submitted by G. Schirmer. 
For more information about the conference or to register, visit operaconference2013.operaamerica.pathable.com.
Christina Loewen is the executive director, Opera.ca.
About Opera.ca: Opera.ca is the national association for opera in Canada. It works with members across the country to represent and advance the interests of Canada's opera community. It seeks to create and sustain an environment that makes opera central to Canadian life, offering greater opportunity for opera artists and audiences alike.
Opera.ca provides services in advocacy and communications, along with support for Canadian opera creation. Working in collaboration with OPERA America, Opera.ca facilitates member discussions about artistic quality and creativity, education and audience development, community service, governance, resource development, promising partnership opportunities, international