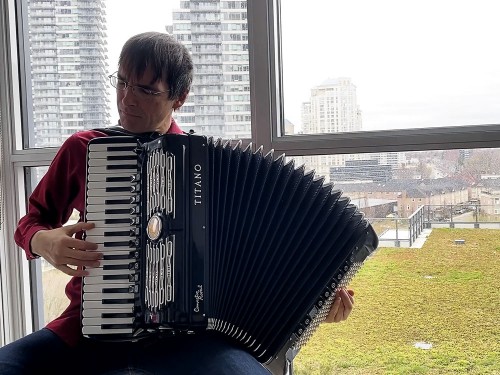 I'm a composer, pianist and self-isolating accordionist.
I released a solo piano album at the end of March about climate change called, A Little Dark Music vol. 2, it was released exactly on the 10th anniversary of the original album. The original album launched a whole North American (sustainably-planned) tour. This one ended up being released with little fanfare as I wasn't prepared for the quick and drastic changes as they unfolded in March around the world.
The premiere of my environmentally-themed piece, Pedal Music, was supposed to happen in Ecuador this June. Hopefully it will still circle the streets of Quito this October. I have a couple of chamber album projects in the works. For the first album, Project Dovetail, I was supposed to be in the recording studio from April to June working with other musicians. I very much miss this part of the creative process.
I've been fortunate to connect with soloists online during this pandemic who have been recording and sharing my new 'Music for Self-Isolation' solo pieces from their homes (http://frankhorvat.com/composition/music-self-isolation). It has been a wonderful experience working with so many talented musicians from all over the world through social media and email. Would be really nice to be in the same room as all of them but I'll cherish being in the recording studio even more when I get to go back there.
Feel free to drop me an email (contactme@frankhorvat.com), connect on Facebook (http://www.facebook.com/frankhorvat1) or listen to my music on Spotify or Youtube (http://www.youtube.com/frankhorvatofficial).
I've seen Toronto change over the last 27 years but nothing as drastic as what has occurred these past two months. I can only imagine how this will alter the city in the coming years. I'm hoping positive change can come out of our experiences this Spring.