Paul Gagnon
647-344-2254
pgagnon@artoftimeensemble.com
www.artoftimeensemble.com

Read Profile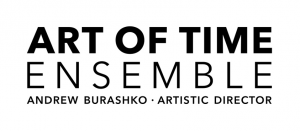 Renowned concert pianist Andrew Burashko formed Art of Time Ensemble in 1998 by inviting a group of like-minded musicians and prominent figures in dance, theatre and other art forms to perform one-off concerts in Toronto. The company has gone on to become a leader in Toronto's vibrant performing arts scene, through its subscription season at the Harbourfront Centre Theatre, regular appearances at Koerner Hall, album releases, performances with leading Canadian orchestras, and tours of its unique offerings to dozens of cities throughout Canada and the United States.
Exploring the relationship between classical music and other genres such as jazz, pop, electronica, rock, folk, electroacoustic, gospel and others, Art of Time seeks to reveal the qualities that lie at the heart of all great music.
The ranks of Art of Time Ensemble's artists are deep and their talents unmatched; featured collaborators include authors Margaret Atwood and Michael Ondaatje, jazz legend Branford Marsalis, vocalists Madeleine Peyroux, Sarah Slean, Hawksley Workman and Tony Award-winner Brent Carver, composers such as Gavin Bryars and Jonathan Goldsmith, and many more.