Catherine Wilson
416-768-8856
cwpianist@me.com
www.ensemblevivant.com

Read Profile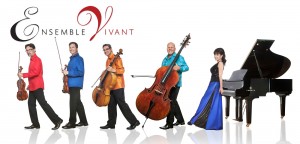 "…chamber music at its evocative best!" – WholeNote 2020 review.
Pioneering tour-de-force Ensemble Vivant's innovative, genre-diverse programming is rich with passionate, deeply communicative playing that touches the hearts and souls of listeners of all ages. EV are Opening Day recording artists with 14 internationally acclaimed CDs.
"…the highest-level chamber music-making. No matter the genre, there is magic in EV's music-making." - Jazz legend/composer Rick Wilkins, C.M.
"…beautiful, poised performances...capture the passion and verve…Wilson's piano gives this music unerring drive and plenty of sparkle." - Toronto Star
EV: Catherine Wilson, piano/artistic director; Corey Gemmell, violin; Norman Hathaway, viola; Tom Mueller, cello; George Koller, bass. Collaborators: Kevin Turcotte, trumpet; Mike Murley, sax; Juan Carlos Medrano, percussion; and many others.
EV's live and virtual invaluable educational/performance programs for children (endorsed by the scientific community) are conducted through the not-for-profit registered charity Euterpe: Music Is The Key (musicisthekey.org). Euterpe's vitally important work was awarded a 3-year Ontario Trillium grant (2020) and a Canada Council Grant (2021).