Roy Greaves
647-292-4204
wychwoodclarinetchoir@yahoo.ca
www.wychwoodclarinetchoir.com
Read Profile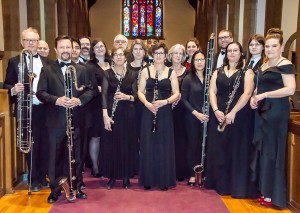 Established in 2009, the Wychwood Clarinet Choir is directed by clarinetist and conductor Michele Jacot. Members of the choir include skilled clarinetists who share a love of music-making, friendship and fun. The group rehearses weekly and performs on a regular basis in Toronto's St. Clair and Wychwood area. The instrumentation of the WCC extends from the contrabass clarinet to the E-flat sopranino. The choir's repertoire includes many compositions and arrangements written by the group's own Composers' Collective, and by the choir's late composer and conductor laureate, Howard Cable.
The Wychwood Clarinet Choir embraces the ideal of 'music for life" and is committed to sharing the musical experience in educational settings and in the wider community.
Choir members are admitted by audition and pay a modest annual membership fee.
Three concerts are planned for the 2019/20 season. "Creepy Clarinets," a Halloween themed concert on October 27; "Midwinter Suites" on February 23; and "Sounds of Spring" on May 24. Please visit the choir's website for all the exciting details!