Matthew Pollishuke
marketing@voxchoirs.com
www.voxchoirs.com

Read Profile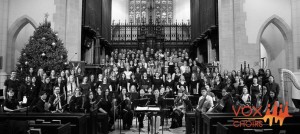 Vox Choirs is a non-profit music organization comprised of two sibling choirs, Univox and Florivox, that share the same core principles: musical excellence, social responsibility, and relationship building.
Univox, led by artistic director and conductor, Dallas Bergen, is a mixed-voice community choir for young adults. Performed works are primarily a cappella and span a wide range of the choral spectrum: Renaissance madrigals and motets, choral classics, modern composition, spirituals, and international folk songs. Univox aims to fill the niche for young adults who wish to continue to have a rewarding choral experience with others in their age group.
Florivox, led by conductor Josh Tamayo, is a non-auditioned choir for treble voices. Just like its sister choir, a love of singing and a strong sense of community are guiding principles of Florivox. Members meet once a week to explore a wide variety of styles and to develop choral/singing skills, all within a friendly and supportive environment.
Both choirs perform 3 principal concerts a year, and this year promises to be another exciting program as the choirs continue to deliver a high quality and passionate musical experience.