Anne Longmore
416-598-0422
www.tmchoir.org

Read Profile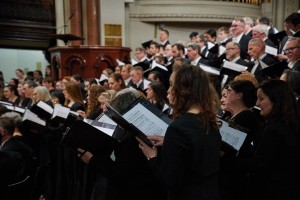 Grand symphonic sound, clarity of expression, and above all emotional impact are the hallmarks of Toronto Mendelssohn Choir performances. Canada's world-renowned, large vocal ensemble performs choral masterworks from across five centuries under the leadership of interim conductor David Fallis. The 120-voice choir includes a professional core, auditioned volunteers and apprentices. The TMC presents its own concert series while also performing regularly with the TSO, including Handel's Messiah. The TMC is currently conducting an international search for a new artistic director.
TMC's 2019/20 season includes a gala 125th anniversary concert with the Toronto Symphony, October 20; "Festival of Carols" with the Toronto Symphony Youth Orchestra, December 3 and 4; a free concert – "Romantics and New Romantics" – with guest conductor John William Trotter, February 22; "Sacred Music for a Sacred Space" with guest conductor Gregory Batsleer, April 8 and 10; and "Great Poets in Music" with guest conductor Jean-Sébastien Vallée, May 30.
The TMC's education and outreach programs include live concert webcasts of select performances, and Singsation Saturday choral workshops for anyone who loves to sing.