Danielle McCandless
416-729-3630
executivedirector@paxchristichorale.org
boxoffice@paxchristichorale.org
www.paxchristichorale.org

Read Profile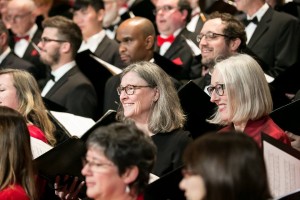 Hailed by critics and audiences alike as one of Canada's finest oratorio choirs, Pax Christi Chorale delivers stirring performances with great polish and total conviction. Under the artistic direction of David Bowser, the award-winning choir has established its reputation as an ensemble of high calibre and a cultural beacon in our city. The organization operates the 100-voice chorale, a chamber choir, and a choral scholars program which provides professional development training to emerging artists. Pax Christi Chorale's collaborations with outstanding guest artists and artistic partners inspire, in audiences and performers alike, a deep appreciation for choral masterworks and new Canadian music.
The organization has recently committed to the commission and premiere performance of three new works by Canadian women composers over three seasons. Pax Christi Chorale champions great choral music among a diverse community. We have an inclusive philosophy and welcome audience members, choristers, and volunteers from all backgrounds and walks of life.
Rehearsals are on Monday nights in North York. Auditions are at the beginning of September, and can be arranged by contacting associate conductor Daniel Norman at dnorms9@gmail.com.