Boris Zarankin
416-466-6323
tickets@offcentremusic.com
www.offcentremusic.com

Read Profile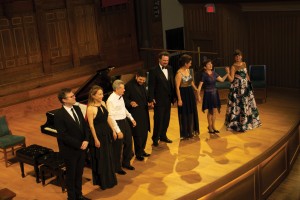 Celebrating its 25th anniversary season, Off Centre Music Salon re-creates the magical, inclusive atmosphere of the Viennese and Parisian Salons of the 19th century. Music is intimately shared, with each concert telling a story and creating personal connections for the audience and performers alike. Dedicated to the discovery and development of young, professional musical talent, Off Centre concerts include voice and instrumental performances. Repertoire is rarely, if ever, repeated.
The theme of our 2019/20 season is "The World of Yesterday." We will begin with our 25th annual "Schubertiad" in October and build on the theme of waltzes in our November concert. In April, we will present a Beethoven-themed concert. We will wrap up our 25th anniversary season in June with a concert entitled "Intersections," enabling us to reflect and explore old times through new performances.
Please join us at our home in Toronto, Trinity-St. Paul's Centre to take a slow meander through the world of yesterday.