Ronald Royer, music director
Devin Scott, executive director
spo@spo.ca
www.spo.ca

Read Profile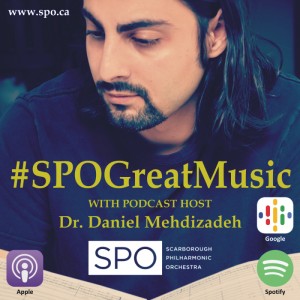 In response to COVID-19, the Scarborough Philharmonic Orchestra will proudly and safely present our 41st season online. The SPO has always been dedicated to enriching the musical life of the greater Scarborough area by presenting engaging, high-quality musical performances. We are proud and grateful to continue to do so.
For 2020/21, the SPO will present two online series based on interesting themes. All-new "SPOGreatMusic" podcast episodes will be available on major platforms every other Friday, beginning September 18, and new Music Performance videos will be posted every other Friday to our YouTube channel, beginning on October 9. Both series run through April 2021.
Music Performance videos will feature SPO musicians, the Odin String Quartet, guest artists, and our artist-in-residence, Dr. Lisa Tahara. We will also post animated short films created by fourth year Sheridan College students with new music by composers from our SPO family. Podcasts will feature amazing interviews with musicians, composers, historians, musicologists, special guests, sector representatives, community partners (including the Stratford Symphony Orchestra, Scarborough Arts, and FabCollab Toronto), and more. Our composer-in-residence and podcast host is Dr. Daniel Mehdizadeh.
For more information, theme details, music performance selections, and links, please visit our website and social media platforms regularly. #SPOGreatMusic.