Charlotte Burrage
416-788-8482
charlotte@vivayouthsingers.com
www.vivayouthsingers.com
Read Profile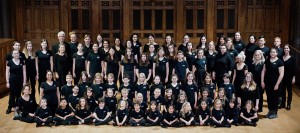 Celebrating our 20th anniversary, VIVA is a vibrant community of singers and educators committed to equity, excellence, and the belief that every voice matters. VIVA empowers singers of all ages, abilities, and experiences in each of seven choirs through innovative and high-level choral pedagogy and performance experiences.
Two vital choir components highlight VIVA's philosophy: the TD Inclusion Program for singers with disabilities; and the Choral Mentoring and Leadership Program for aspiring conductor-educators. VIVA's youth choruses include: Preparatory (ages 4-6); Junior (ages 6-10); Main (ages 9-16); Senior Treble (ages 13-16), Everyone Can Sing for those aged 13 and up with disabilities; adult choirs include: Community Choir (SATB; non-auditioned) and Chamber Choir (SATB; auditioned).
All singers perform annually in our "Series Concerts" in Jeanne Lamon Hall at Trinity-St. Paul's Centre, and other professional engagements. VIVA is the official children's choir of The National Ballet of Canada, performing annually in The Nutcracker. Special events this year include VIVA's 20th "Anniversary Commissions," and a performance tour to Scotland in July.