Karen Burke
905-794-1139
info@tmc.ca
www.tmc.ca

Read Profile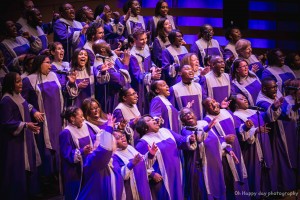 The Toronto Mass Choir continues to be on the cutting edge of Canadian gospel music bringing their distinct sound to the world stage. Their music incorporates contemporary gospel, traditional gospel as well as Caribbean music influences. Since 1988, the choir has recorded 12 albums, including the Juno award-winning album Instrument of Praise. More recently, TMC released By Special Request in June 2018.
2019/20 will feature their annual "PowerUp" event which is a three-day Gospel music workshop, featuring over 20 workshops and a huge finale concert event, on February 20 to 23 (www.powerupgospel.ca). This Fall, "Together Day" will happen on Saturday, Nov 2, another more intimate opportunity for the public to learn Gospel music in a workshop setting.
Karen Burke, a professor in the music department at York University, is the artistic director of this diversified group along with her husband, Oswald Burke, who serves as their executive producer. Now with 45 members, plus a five-piece band, this not-for-profit choir consists of adult members from all across the GTA. Their travels abroad have taken them to several different countries such as Poland, Romania and the Dominican Republic.