Leslie Allt
647-869-2559
lesallt@rogers.com

Read Profile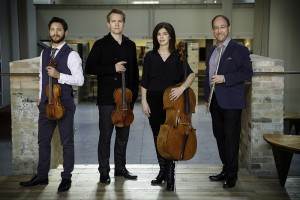 LARK Ensemble forms the core players for the Skylight Series of concerts at the beautiful Corkin Gallery. Each year, we are joined by some of Canada's finest musicians to bring you masterworks and hidden gems from past and present. Our concerts are known for their creative programming and intimate setting, as well as our now-famous intermission parties.
LARK Ensemble is Leslie Allt, principal flute, National Ballet Orchestra; Aaron Schwebel, concertmaster, National Ballet Orchestra; Roberta Janzen, cellist,Toronto Symphony Orchestra; and Keith Hamm, principal viola, Canadian Opera Company.
This year's concerts at the gallery take place on October 6, February 9 and May 17, all at 7:30pm. We are also playing as part of the free noon-hour series at the Four Seasons Centre on April 14. Our guests this season include Theresa Rudolph and Kathleen Kajioka, viola; Leana Rutt, cello; Christopher Bagan, fortepiano and harpsichord; and Erica Goodman, harp.