Peter Sullivan, president
705-739-7281
pesullivan71@gmail.com
www.kingedwardchoir.ca


Read Profile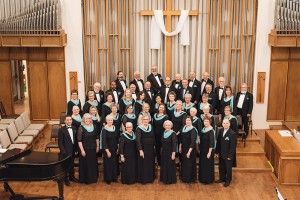 Founded in 1952 by Jean Dobson, Barrie's King Edward Choir enters its 68th season, under the direction of maestro Oliver Balaburski. The choir began as a ladies' ensemble, taking its name from the school in which they practised. It blossomed into a group encompassing all voices and today is a mixed group of 50 singers committed to creating beautiful music in a passionate, informed and evocative manner.
Our mandate is to offer choristers and audiences alike opportunities to experience a broad range of choral music, including classical, contemporary, Canadian, popular and world music. We continue to collaborate with other artists, engage in community outreach, and offer a mentorship program for students. New members are welcome to join by audition throughout the year.
Our 2019/20 season begins with "Gloria" on Nov 30, featuring Vivaldi's well-known setting of the same, plus a selection of Christmas works, with several by Canadian composers. Winter and spring concerts are on March 7 and May 9.