Lauren Mayer
416-433-5495
info@etobicokecentennialchoir.ca
www.etobicokecentennialchoir.ca

Read Profile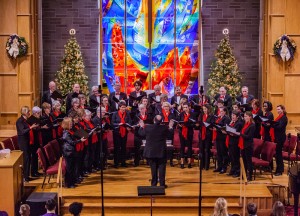 In its 53rd season, Etobicoke Centennial Choir (ECC) enriches the cultural life of the community with high-calibre vocal music performances. ECC offers singers a rewarding choral music experience in a welcoming, inclusive community. We perform diverse repertoire, ranging from classical masterpieces to contemporary compositions, folk and popular music.
Our season begins on December 7 with "Sweet Rejoicing", featuring Antonio Vivaldi's uplifting Gloria, Robert Pearsall's lovely arrangement of the ancient carol In Dulci Jubilo and joyful seasonal music. "Offering" on April 4 presents a gift of gorgeous classical music, including Luigi Cherubini's stunningly beautiful Requiem Mass in C Minor and an exquisite selection of art songs by Brahms, Vaughan Williams and others. "Musica Borealis" on June 6 features glowing music from northern lands, including Scandinavia, Estonia and Canada. The Canadian Croatian Choral Society will join ECC in performing a selection of authentic Croatian folk songs.
Rehearsals are on Tuesday evenings from 7:30pm to 10pm at Humber Valley United Church in Etobicoke. Etobicoke Centennial Choir always welcomes new choristers. Interested singers are invited to attend a rehearsal.