Denise Near
705-735-0720
info@barrieconcertband.org
www.barrieconcertband.org

Read Profile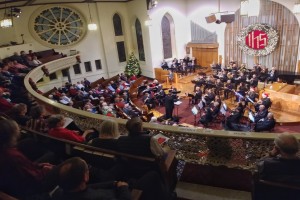 Under the direction of their new musical director, Angelik Jones, the Barrie Concert Band is excited to begin their 2019/20 season this fall, starting with the "Salute to the Veterans" concert on Tuesday, October 15.
Founded in 1869, the Barrie Concert band is the longest running musical organization north of the Golden Horseshoe and has over 50 members. This year's concert subscription series will be an exciting mixture of music genres. The series kicks off on December 7 with "A Christmas Chocolate Box" filled with tasty Christmas tunes, followed by a rocking good time on March 7 as the band performs a "Barrie Concert Rock Band". The series wraps up on June 6 with an afternoon of musical favourites as the "Band Goes Broadway". Don't miss a single concert when you buy a subscription!
As always, the Barrie Concert Band looks forward to supporting their local community by performing throughout Barrie & Simcoe County as they share their passion for music with enthusiasm and excellence.