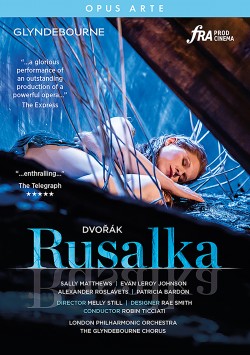 Dvořák – Rusalka
Soloists; Glyndebourne Chorus; London Philharmonic Orchestra; Robin Ticciati
Opus Arte OA13020 (naxosdirect.com/search/809478013020)
Although Antonín Dvořák wrote ten operas, the fairytale Rusalka, written at the end of his life, was the only lasting triumph for the internationally renowned Czech composer. The reason was that most of Dvořák's operas were felt to be dramatically weak, as a result of which he failed in his lifelong ambition to be recognized as Smetana's heir.
Rusalka is a dreamily melodic opera set to Jaroslav Kvapil's libretto, (which also included some Slavonic features), which was based on the tale Undine by Friedrich de la Motte Fouqué; also used by Hans Christian Andersen as well as by Pushkin. Dvořák's beautiful score occasionally evokes both Wagner and Debussy, but it also has earthier passages which underline its Czech identity. As a love story, it remains unusual. Since Rusalka is rendered mute by a charmed spell and potion given to her by the witch Ježibaba she cannot speak to her beloved prince and so there is no conventional love duet. Yet, magically, the opera's finest arias – including the famous Song of the Moon – belong to Rusalka.
Sally Matthews plays the heroine with tragic majesty. Patricia Bardon's Ježibaba is dark and beguiling while Evan Leroy Johnson plays the Prince with great eloquence. Rae Smith's set design is breathtaking and Melly Still's direction has an epic quality to it. All of this is superbly assisted by the Glyndebourne Chorus and the London Symphony Orchestra which are expertly conducted by Robin Ticciati.