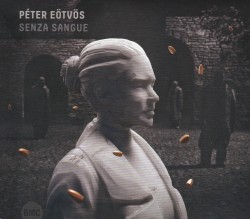 Péter Eötvös – Senza Sangue
Viktória Vizin; Jordan Shanahan; Hungarian National Philharmonic Orchestra; Péter Eötvös
BMC Records BMC CD 278 (bmcrecords.hu)
Senior postmodern Hungarian composer-conductor Péter Eötvös (b.1944) is among today's most active opera composers. His 12th stage work, Senza Sangue (2015), is an opera in one act with libretto by Mari Mezei after a novel by Alessandro Baricco.
Eötvös' first large-scale compositions were for film and his feel for drama and pregnant atmosphere is amply reflected in the premiere live 2018 recording of Senza Sangue starring mezzo Viktória Vizin and baritone Jordan Shanahan. The composer conducts the Hungarian National Philharmonic Orchestra in his colourful score for an orchestra and cast very similar to the one in Béla Bartók's weighty and difficult to program single-act opera, Bluebeard's Castle. It's no coincidence; according to Eötvös, he expressly composed Senza Sangue as a concert companion to Bluebeard.
The resemblances extend to their librettos. As in the Bartók opus, love, sex and death go hand in hand in the Eötvös opera, except that multiple deaths precede the narrative unfolding in Eötvös' 45-minute work. Entwined themes of war-fuelled cruelty, violence, compassion, trauma and above all revenge, transform into a kind of parable of reconciliation as the last mysterious low chord dies out.
As for the musical language, it is expressionistic, with splashes of bold emotion, though Eötvös insists that "there are no avant-garde endeavours whatsoever [in it]. I'd like my work to be performable in 50 years too." Judging from the performance on this album chances are very good that it will.
Eötvös' subsequent opera, Sleepless, composed in 2020, is scheduled to premiere in Berlin later this year, with additional performances slated for Geneva in 2022.