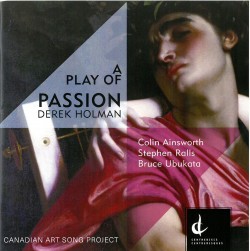 Derek Holman – A Play of Passion
Colin Ainsworth; Stephen Ralls; Bruce Ubukata
Centrediscs CMCCD 23016 musiccentre.ca
This Centrediscs release offers a fine selection of works by distinguished Canadian composer Derek Holman (b.1931). British-born Holman's vocal expertise shows here in well-chosen texts and effective settings with memorable moments. His musical style addresses emotionally difficult terrain with sensitivity and a sure touch, pensive yet not morbid. Canadian tenor Colin Ainsworth's tone, diction and phrasing are praiseworthy throughout, as are the secure support and interpretative contributions of collaborative pianist Stephen Ralls.
A few song highlights: in the elegiac cycle A Lasting Spring (2004), I especially appreciate the setting of Robert Herrick's To Music, including the repeated text "melt my pains" as the poet asks for a glimpse of heavenly light. In The Burning of the Leaves from A Play of Passion (2010), Ainsworth delivers a heartfelt warning of poet and composer against idle nostalgia in a thrilling passage capped by the disc's highest note (C). From the same cycle, the setting and singing of Care-charmer Sleepe (Samuel Daniel) with its insomniac repeated treble line, are hypnotic and wonderful. Another subtlety: the final song of The Death of Orpheus (2005) has an insubstantial little arpeggiated downward figure, the ghost of Greek mythology's most famous musician not rising, but here going down to Hades a second time (post-death) to meet Eurydice in the Elysian Fields. The disc also includes Bruce Ubukata with Ralls, ably playing the clever, often bi-tonal two-piano work Variations on a Melody by Doctor Arne (1999).