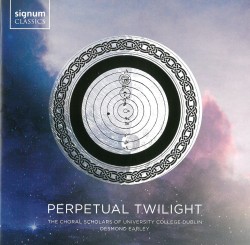 Perpetual Twilight
Choral Scholars of University College Dublin; Desmond Earley
Signum Classics SIGCD558 (signumrecords.com)
While Ireland has long been renowned for its outstanding literary tradition, it is perhaps less well known for its contributions to choral music. Nevertheless, if this CD Perpetual Twilight, featuring the Choral Scholars of University College Dublin under the direction of Desmond Earley, is any indication, it would appear that the current Irish choral scene is a very vibrant one indeed.
The 28-member chamber choir was founded by Earley in 1999, and since then, numerous tours to various parts of Europe and the United States have earned the ensemble international acclaim. From the opening track Dúlamán, a lively traditional working song from Northern Ireland, it's evident that the disc is infused with a strong Irish flavour – and what a warm and mellow sound the ensemble produces! Tenors – rares aves in many vocal ensembles – appear to be a major component of the Choral Scholars, resulting in a well-balanced blend of vocal ranges.
The thoughtfully chosen program – an attractive mix of traditional folk songs with newly commissioned pieces – includes the well-known My Love is like a Red Red Rose and Danny Boy in addition to the less familiar Maid of Culmore and Bó na Leathadhairce, the latter arranged by the conductor. Earley is also a composer, and works such as the uplifting Body of the Moon and Strings in the Earth and Air, are testament to his creative talents.
Throughout, the 13-member instrumental ensemble – including a bodhrán, a tin whistle and a harp – provide a solid and sensitive accompaniment. For lovers of the Irish folk tradition, Perpetual Twilight is a delight – joyful singing from the land of Joyce and Beckett – comhghairdeas!