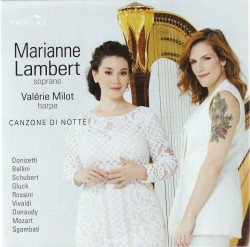 Canzone di Notte
Marianne Lambert; Valerie Milot
Fidelio FACD052 (mariannelambert.com)
The grand conception of this disc, intended to be in praise of bel canto, is instantly discernible. Why would it not be? Quebec soprano Marianne Lambert inhabits this repertoire, sliding into it as if into a second skin; musical secrets revealed from the tablet of her heart.
The singer's lustrous voice soars in melismatic and arpeggiated leaps, sometimes with sly, but glorious coloratura. She is an eminently graceful singer who can generate genuine pathos, as superbly captured on Vivaldi's Sposa, son disprezzata or Rossini's Giusto Ciel, in tal periglio!; conjure great hope as in Mozart's Ridente la calma and Rossini's La promessa; and unfettered joy on Donaudy's Vaghissima sembianza.
Lambert is an artist of the first order. She makes key phrases in these arias come alive and spring in balletic arcs, cutting through the still air of this room. She digs into the meaning of words and phrases and infuses their poetry with a sense of nostalgia and melancholy, painting the song's fluid melodies with poignant candour.
With radiant chromaticisms and splendid sonorities the harpist Valérie Milot complements the plaintive soundworld of the characters played by the singer. Her notes are ideally weighed and measured, and fit perfectly onto Lambert's vocals as if punctuating these songs with wistful and melancholy accents. Together Lambert and Milot create a grand edifice of song through this well-chosen repertoire.