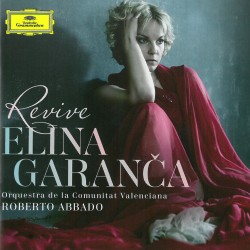 Revive
Elīna Garanča; Orquestra de la Comunitat Valenciana; Roberto Abbado
Deutsche Grammophon 479 5937
Elīna Garanča from Latvia is unquestionably the greatest mezzo of our time, already a legend. The mention of her name fills up opera houses and concert halls instantly worldwide. Her debut at the Met in Carmen was a world sensation, redefining the role and making us forget any Carmen heard before or ever after. Wherever she goes, she conquers. This is her fifth solo disc for DG, the previous four all award-winning runaway bestsellers and each showing different sides of her talent and development towards more and more complex roles.
"Strong women in moments of weakness" is how she defines this new release, and that means conflicting strong emotions but also a breakaway from her earlier bel canto repertoire into French and Italian verismo and, of course, Verdi. The point of departure is the role of Santuzza in Cavalleria Rusticana (her next project) with the gut-wrenching aria Voi lo sapete, o Mamma of human misery and despair, with Garanča rising to the occasion in a voice of tremendous range of vocal colour, intensity, passion and, above all, power.
Challenging and beautiful arias by Cilea, Massenet, Thomas and Saint-Saëns and more each give us a tantalizing glimpse into mezzo territory. And then comes Verdi: one huge role, Eboli in Don Carlo, which she hasn't done yet and which everyone is waiting for. If this thrilling showstopper, Song of the Veil with its fiery Spanish rhythms and exuberance, is any indication, it will be another triumph. Roberto Abbado's intense and passionate conducting adds to the success of this remarkable collection.