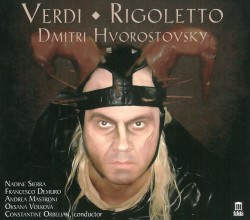 Verdi – Rigoletto
Dmitri Hvorostovsky; Nadine Sierra; Francesco Demuro; Andrea Mastroni; Oksana Volkova; Kaunas City Symphony Orchestra and State Choir; Constantine Orbelian
Delos DE 3522 (delosmusic.com)
This is the final opera recording that the great Russian baritone Dmitri Hvorostovsky made before his too-early death last November. Surprisingly, it marks the first time he recorded Rigoletto, even though the cursed, tragic court jester was one of his favourite – and finest – roles.
Verdi wrote some of his most memorable arias for Rigoletto. They're given bravura performances here, with Hvorostovsky's harrowing Pari siamo! confirming him as a Rigoletto for the ages. Tenor Francesco Demuro's Duke of Mantua dazzles, at times too brightly, in La donna è mobile, while soprano Nadine Sierra portrays Rigoletto's daughter Gilda with a rich, moving Caro nome.
Rigoletto's extended duets with his daughter provide the most dramatic moments in this opera. Sierra is persuasive as a naïve yet determined young girl, while Hvorostovsky manages to reveal the depths of Rigoletto's anguish. During the first act duet, Figlia! Mio padre!, Rigoletto suddenly shatters the tender mood by turning on Gilda accusingly. The way Hvorostovsky darkens and roughens up his voice makes for riveting drama.
The men of the Kaunas State Choir deliver with such style that they almost steal the show. Hvorostovsky's longtime collaborator, Constantine Orbelian, leads the Kaunas City Symphony Orchestra with delightful clarity.
Hvorostovsky performed regularly in Toronto throughout his career, though unfortunately never in a staged opera. This recording of one of the most demanding roles in all opera makes a fitting tribute to a matchless singer. He will be missed.