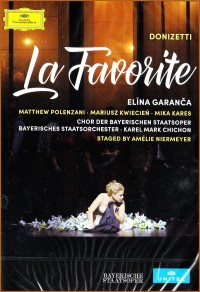 Donizetti – La Favorite
Elīna Garanča; Bayerische Staatsoper; Karel Mark Chichon
Deutsche Grammophon 073 5358
This is indeed a superlative performance from Munich, to be remembered for a long time to come. It brings out all the glory that lay partly dormant in past performances, although the opera did well for the last 177 years since first performed in Paris with great success. This new production perhaps wouldn't have happened without Elīna Garanča's keen interest in the project; the role seems written for her and she even brought along her husband Karel Mark Chichon to conduct as if the score was written for him. A happy situation, as there is a symbiotic relationship here; the two inspire each other and it sparkles like electricity in the air.
The great mezzo towers over everything, vocally, artistically and even physically with tremendous vocal and emotional range and an incredible commitment to the character she plays. Léonor de Guzman is a beautiful woman literally enslaved by the King of Castile in 14th-century Spain, trying to break out by finding true love with a young man, only to be outwitted by the King, losing everything including her life. No less memorable are the men: American lyric tenor Matthew Polenzani, as Fernand the hapless lover, is glorious in his passionate love for Léonor and displays magnificent emotional and vocal fireworks in his grand scene at the third act finale when he finds out he's been cheated by marrying the King's mistress. Internationally famous Polish baritone Mariusz Kwiecien is perfectly cast as the charming, but utterly ruthless, powerful monarch who, also infatuated with Léonor but having to give her up, is thirsty for revenge.
Talented director Amélie Niermeyer has a well-thought-out konzept definitely centring on the woman. Sets are minimal but powerful and create intimacy as well as religious fervour, not to mention space and grandeur that works so well that it even invokes the Grand Opera in Paris.