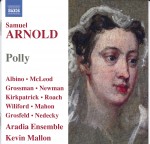 Samuel Arnold - Polly
Aradia; Kevin Mallon
Naxos 8.660241
This is a thorough and charming recording of the 50 rather slight musical numbers written and arranged for the little-known sequel to John Gay's The Beggar's Opera. The newly-published edition of the score is a labour of love by Robert Hoskins, a musicologist on faculty at the New Zealand School of Music in Wellington. The opera follows Polly Peachum to the West Indies as she seeks out MacHeath and the score follows a similar "ballad opera" blueprint, offering famous tunes of the day paired with literal and sometimes clumsy lyrics describing the characters' predicaments.
Polly is boldly subtitled "an Opera", written by a learned English composer/scholar who was known for his mastery of providing incidental music for plays in the latter half of the 18th century. In the end, what makes opera interesting and compelling is thematic development and poetic imagery, both in text and music, and both are missing in this piece to a great degree.
In the latest addition to its extensive Naxos discography, the Toronto-based Aradia Ensemble, directed by Irish violinist Kevin Mallon, sounds warm and tidy in their accompaniments of the short songs, while in the instrumental numbers – the overture and dance suites of Pirates and Indians – they are given a little more opportunity to shine. The local singers turn in spirited and lyrical performances, notably soprano Eve Rachel McLeod, mezzo Marion Newman, tenor Lawrence Wiliford and baritone Jason Nedecky, all of whose diction paves the way to a greater understanding of the story.