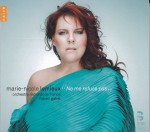 Ne Me Refuse Pas
Marie-Nicole Lemieux; Orchestre National de France; Fabien Gabel
Naïve V 5201
There are no surprises here. Contralto Marie-Nicole Lemieux sings a number of famous and well loved French opera arias with passion, musicality, technique and a pitch to die for.
She is accompanied by the fabulous Orchestra national de France under the superb guidance of Fabien Gabel. The relationship between the singer and the "accompanist" is so intimate that the recording sounds like it took place in my living room! Unfortunately her performance (with the Jeune choeur de Paris) of Bizet's "L'amour est un oiseau rebelle" (aka "Habanera") from the opera Carmen lacks the feminine vitality that makes the aria so intriguing. This is the only lapse however, and a listen to her ascending vocal line at the beginning of Massenet"s "Qui m'aurait dit la place" from the opera Werther is to witness a vocal genius at work – a spine-tingling example of Lemieux's artistry.
Alexandre Dratwicki's liner notes titled "the voice of romanticism" is a superlative exposé on the French art of singing during the Romantic era. Thankfully, Lemieux does not engage in the "French screaming" that the author amusingly refers to, but it really is an individual taste to either love or abhor the dramatics of the music and lyrics from this period. I greatly enjoyed this release – the music may not be completely to my liking, but Lemieux's brilliant performance sells me on its credibility.