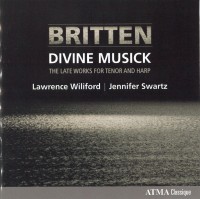 Britten - Divine Music: Late Works for Tenor and Harp
Lawrence Wiliford; Jennifer Swartz
ATMA ACD2 2623
The works of this collection date from the final years of Benjamin Britten's life (1913-1976), a period marked by recurring heart problems which surfaced in 1968. It was not until 1973 however that radical surgery was attempted, the composer having in the meantime devoted most of his energies to the completion of his final opera, Death in Venice (1971-73). The operation proved ineffective and led to a stroke that compromised his ability to play the piano, threatening an end to the numerous recitals he enjoyed presenting with his life partner, tenor Peter Pears. Britten subsequently passed on his accompanist's role to the trusted Welsh harpist Osian Ellis, with whom he had collaborated since 1959, and composed and re-arranged material for Pears and Ellis to perform in concert.
The fruits of this creative partnership are lovingly recreated in this striking album on the ATMA label. It features a selection of Britten's celebrated folk song settings re-cast for voice and harp and the world premiere recording of the Five Songs from Harmonia Sacra from 1975-76. Tenor Lawrence Wiliford exhibits a wide range of colours as the occasion demands, sensitive and intimate in the sacred songs, more forceful in the folk-derived arrangements and fully at ease with the quaint Scots dialect of A Birthday Hansel composed for the Queen Mother's 75th birthday. His brilliant partner Jennifer Swartz shines in the solo Suite for Harp composed for Ellis in 1969. The balance between voice and harp is superbly recorded and full texts and translations are provided.

Concert Notes: Lawrence Wiliford is featured in Opera Atelia's production of Acis and Galatea October 30 to November 7 and Tafelmusik's Handel: Dixit Dominus November 11 to 14. The COC's production of Britten's Death in Venice continues to November 6.