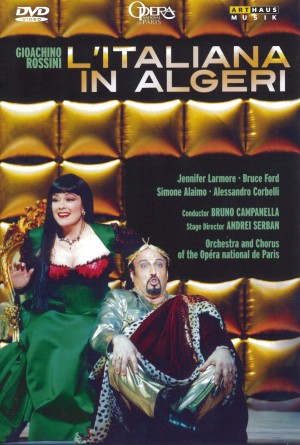 Rossini - L'Italiana in Algeri
Jennifer Larmore; Bruce Ford; Simone Alaimo; Alessandro Corbelli; Orchestra and Choirs of the Opera National de Paris; Bruno Campanella
ArtHaus Musik 107 127
Rossini's first major success in 1813, in Venice, an opera the 21 year old composer dashed off in a month, is now available in at least 3 video performances. Although the one from the Met in 1983 with Marilyn Horne is still a strong contender, this production in 1998 by Andrei Serban from the resplendent Palais Garnier opera house must take precedence with its imaginative new stage production and high musical values.
How to describe it? Certainly not 'operatic' in the traditional sense and perhaps influenced by Broadway with constant, sometimes acrobatic movement, dazzling primary colours and grotesque, oversize, cartoonish features that may overwhelm the audience at first, but will become hugely entertaining as the performance unfolds.
A comic masterwork through and through, it is in this opera that Rossini first devised one of his unique Act 1 finales "Pria di dividerci da voi, signore" where 7 different voices mix and create total pandemonium.
The superb cast includes the protagonist American mezzo Jennifer Larmore who truly inherits the role from Marilyn Horne with comic, spontaneous acting, a wonderful voice and a stunning stage presence. I am not saying she steals the show because bass buffo Simone Alaimo as the Bey of Algiers hopelessly pining for her is even more hilarious and the pair of them with a strong chemistry simply take the bit and run with it. Necessary to complete the triangle the tenor Bruce Ford looks refreshingly different from the typical insipid Rossini tenor with his bushy hair, a beard and build that makes him believable as a lover to the likes of Ms Larmore. Being a famous Rossini tenor he copes magnificently with the florid, high tessituras of his part. Italian conductor Bruno Campanella has the perfect feel for Rossini with ideal tempi and a light, sensitive touch. He outshines James Levine of the competing set.