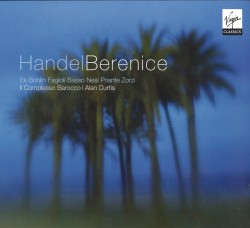 Handel - Berenice
Il Complesso Barocco; Alan Curtis
Virgin Classics 6 28536 2
Berenice may not be as gripping as Handel's greatest operas, such as Julius Caesar, Ariodante and Rodelinda. But by any standard it is a magnificent work, melodically rich and psychologically insightful. Yet since the rather unsuccessful premiere in 1737, it is rarely performed or recorded. So this splendid new recording by Alan Curtis and his Venice-based Il Complesso Barocco is welcome – all the more so since Curtis restores the music Handel cut in an attempt to improve the opera's fortunes.
This is a lively, energetic, elegant, spontaneous yet unmannered performance, with Curtis leading from the harpsichord. Curtis has been a talent-spotter right from his ground-breaking 1977 recording of Handel's Admeto, which was the first recording of a complete Handel opera on period instruments. Here he once again manages to offer a relatively unknown but terrific cast of young singers.
Klara Ek is lovely in the title role of Berenice, Queen of Egypt. Her clear, animated voice is delightful in the moving dialogue with oboist Patrick Beaugiraud, "Chi t'intende", though her "Traditore, traditore!" doesn't convey the delicious ferocity of Handel's more dramatic writing. Soprano Ingela Bohlin, bass Vito Priante, and especially countertenor Franco Fagioli are all standouts. But the most exciting singer here is Romina Basso, whose passionate characterization of Berenice's sister Selene is riveting.
The booklet is generous, especially by today's standards. It contains the full libretto with English translation, informative notes, and photos of the singers as well as the superb orchestra.