Schumann
Marie-Nicole Lemieux; Daniel Blumenthal
Naïve V5159




At Grigorian.Com
What a treat to listen to a goodly measure of Schumann's vocal music sung in full, rich and womanly contralto. Marie-Nicole Lemieux, though still in her early thirties, displays the maturity of tone and dramatic sensitivity demanded by this quintessential Romantic genre. Whether playing the young betrothed made breathless by the excitement of her approaching nuptials or evoking the first stirrings of motherly instinct or the grief of widowhood, Lemieux delivers a stunning and credible execution. And accompaniment by Daniel Blumenthal is most expressive whilst never overreaching the support role and yet is quite unique in its tone and pacing compared with other performances of this repertoire. In addition to Frauenliebe und-Leben, Lemieux and Blumenthal perform another of Schumann's song cycles, Liederkreis, as well as five other Schumann lieder: Die Löwenbraut, Der Nussbaum, Er Ist's, Lorelei, and Widmung. While Frauenliebe und-Leben and Die Löwenbraut work within a narrative framework, Liederkreis and other selections simply evoke the atmospheric qualities of Romanticism: nature, sentimentality and longing, alongside a most seductive fear of the dark and the unknown. The obsessive spirit of Schumann's total immersion in lieder in 1840 along with his idealized perception of womanhood which drove his pursuit of Clara is well realized by these two exceptional performers.
Dianne Wells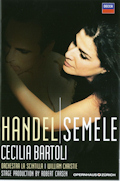 Handel - Semele
Cecilia Bartoli; Orchestra La Scintilla; William Christie
Decca 074 3323


At Grigorian.Com
Suspension of disbelief is one of the most important elements to possess when watching opera. You know what I mean - the middle-aged soprano singing of celebrating her 16th birthday (Madama Butterfly); the less-than youthful and not so slender Ophelia in Hamlet; the numerous "in trousers" roles…. That is the primary reason why for centuries now there is a tension between singers gifted with an incredible voice and not looking the part and those who only look, but don't sound the part. Some of the greatest operatic careers were built mostly on the looks (Renée Fleming, take a bow!). Then there is Cecilia Bartoli. Years ago, her beautiful, but not very powerful voice was upstaged by her stunning looks. But as her voice has matured, no suspension of disbelief is necessary. Her performance as Semele is a case in point. The grasping, foolish Semele instead has a problem not of her own making - the minimalist production by Robert Carsen. The modern, Royal House of Belgium-like set and costumes do not convince as a dwelling of Jupiter and his favourite mortal. And yet, in the third act, both Bartoli and Charles Workman as Jupiter deliver a gripping, powerful interplay of love and misunderstanding. The human and divine emotions shine in their voices as they do in the voices of the other principals and the precise, if not very period-inspired playing of the familiar music of Handel. Although not a complete triumph, this is one DVD worth keeping – if you can suspend disbelief
Robert Tomas

Puccini - Madama Butterfly
Angela Gheorghiu; Jonas Kaufmann;
Orchestra e Coro dell'Accademia Nazionale di Santa Cecilia; Antonio Pappano
EMI Classics 2 64187 2 8


At Grigorian.Com
In the DVD era it comes as quite a surprise that EMI is investing in a brand new CD set of Puccini's Madama Butterfly. Especially Butterfly, an opera recorded umpteen times and favoured by some of the greatest conductors, most notably Karajan who probed the depths and unearthed so much beauty in this score much to the chagrin of its detractors who ridiculed it as shallow and sentimental. Favoured also by the great sopranos, Callas, Tebaldi, the unforgettable Scotto, Freni etc. who made the principal role their own over the years.
Yet it is still important to hear new artists tackling the score and this handsomely presented new set with demonstration sound does just that. From the first bar onwards we are instantly aware of the excitement and electricity of Antonio Pappano's brilliant, empathetic conducting, turning the orchestra into a major dramatic role in an almost Wagnerian fashion. His feeling for detail is uncanny. Feel how he creates an almost unbearable and horrifying near silence just before final tragedy.
Jonas Kaufmann as Pinkerton is a strong 'heldentenor', singing out the notes, but I am missing the Italianate charm that I am sure Puccini intended. In the supporting roles, Fabio Capitanucci (Sharpless) and Enkelejda Shkosa (Suzuki) are not comparable to such past greats as Christa Ludwig and Giuseppe de Luca. However, the second major factor that makes this recording so extraordinary is famed Puccini heroine Angela Gheorghiu in the title role. It requires a singer-actress of the highest caliber to portray the development of a 15 year old geisha into a lover, a proud mother and later a tragic heroine. She accomplishes this daunting task beautifully with a memorable performance.
Janos Gardonyi