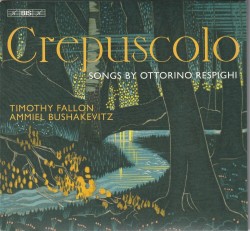 Ottorino Respighi – Crepuscolo
Timothy Fallon; Ammiel Bushakevitz
BIS BIS-2632 SACD (bis.se)
Respighi's remarkably wide-ranging stylistic eclecticism in these 26 songs turns this CD into a bountiful sonic buffet offering a delectable array of variegated flavourful delicacies.
The neo-Renaissance Cinque canti all'antiqua (Five Songs in Ancient Style) includes an aria from his opera Re Enzo and four plaintive love songs, three with texts by Boccaccio. The five extravagantly expressive songs of Deità Silvane (Woodland Deities) recall music by Debussy and Ravel, who also evoked sylvan myths, here replete with fauns and nymphs, cymbals and pipes, and mysterious dances. In the fifth song, Crepuscolo (Twilight), "Pan falls asleep… a joyful song quivers." Inspired by a visit to Scotland, Respighi arranged his beguiling Quattro arie scozzeti (Four Scottish Songs) – the nostalgic When the Kye Come Home, Within a Mile of Edinburgh and My Heart's in the Highlands, ending with the jaunty The Piper of Dundee, all sung in Scottish English.
There are many beauties to be found within the other 12 songs, each steeped in the hyper emotionality of Late Romanticism, whether expressing sweet tenderness, passionate yearning or agonized desperation. American tenor Timothy Fallon invigorates these unfairly neglected, fervent songs with operatic ardour and a firm, shining tone, while Ammiel Bushakevitz sparkles and surges at the piano. One caveat – due to the very over-reverberant acoustic, the bass response must be minimized in order to maximize the enjoyment of this most enjoyable CD. Texts and translations are included.