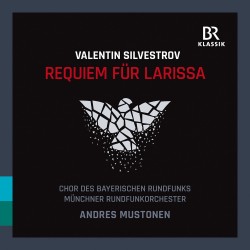 Silvestrov – Requiem für Larissa
Solists; Chor des Bayerischen Rundfunks; Münchner Rundfunkorcheste; Andres Mustonen
BR Klassik BRK900344 (naxos.com/CatalogueDetail/?id=900344)
Valentin Silvestrov, Ukraine's best-known living composer, wrote Requiem for Larissa in 1999 in response to the sudden death of his wife, Larissa Bondarenko. It's a work of devastating beauty.
Musical references to Silvestrov's life with Bondarenko, a musicologist, reveal how deeply personal this work is. Yet it pulls us into the sweep of historical events. This new release, still just its second recording, was made in 2011. Today, with the attacks on the 85-year-old composer's beloved homeland by Russia, Silvestrov's Requiem resonates even more deeply. And the significance of this recording grows.
The searing fourth movement, Goodbye, O World, O Earth, Farewell directly recalls the fifth song from Silvestrov's mesmerizing cycle for baritone and piano, Silent Songs. Here it's a tenor who sings the poignant lament, set to an excerpt from The Dream by Ukraine's national bard, 19th-century poet Taras Shevchenko. Andreas Hirtreiter communicates the composer's pain and longing while heeding his constraints on interpretive flourishes.
The remaining six movements are set to sacred texts from the Latin Mass for the Dead. But Silvestrov has extracted fragments and jumbled them up. In the Agnus Dei, he revisits one of his strangest and most wonderful piano pieces, The Messenger. Invoking Mozart in style and spirit, it arrives mysteriously, an enigmatic dispatch bringing consolations from another world.
A stirring performance by the Bavarian Radio Choir and the Munich Radio Orchestra under the adventurous Estonian conductor Andres Mustonen puts Silvestrov's evocative harmonic shifts and uncanny colours into urgent focus.