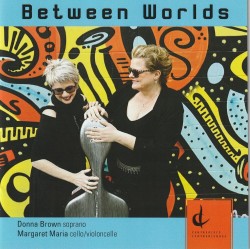 Between Worlds
Donna Brown; Margaret Maria
Centrediscs CMCCD 30522 (cmccanada.org/shop/cd-cmccd-30522)
Between Worlds is a collaboration between composer-cellist Margaret Maria and soprano-poet Donna Brown. With poems set specifically to music and others adapted into music to fit a theme, the creators tell us that this project "uses words and music to explore the tension between Thanatos and Eros via a symbolic journey from Sunset to Sunrise."
In a series of eight movements set for soprano and cello orchestra, Sunrise, Fall, Lady Moon, Snakes and Demons, Caught Between Worlds, To Grasp Time, Sunset and One, aim to awaken listeners to their inner and higher states of consciousness, make sense of the world, and, ultimately, search for light and peace with an open heart.
The movements each display styles and techniques that vary greatly, the voice moves from spoken (Sunset) and declamatory to complex extended vocals, while the cello(s) are at times thin, scattered and sparse (Sunrise, Sunset) or veer into more complex extended instrumental techniques (Snakes and Demons) and playing ponticello (Fall). The cello orchestra is created by Maria who overdubs the different cello parts.
Donna Brown teaches voice at the Conservatoire de Musique de Montréal and her recordings have won several awards. Margaret Maria is a graduate of the Curtis Institute of Music and has played on numerous Canadian and international stages. Between Worlds received its world premiere in 2019 by the Ottawa Chamber Orchestra with a full complement of strings.