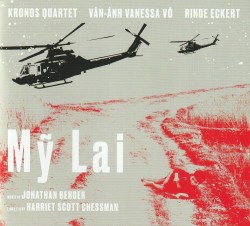 Jonathan Berger; Harriet Scott Chessman – Mỹ Lai
Kronos Quartet; Vân-Áhn Vanessa Vo; Rinde Eckert
Folkways SFW CD 40251 (folkways.si.edu)
Every once and a while the invisible cosmic forces align in such a manner as to create art that is spectacularly dark and forbidding, yet utterly irresistible and monumental. For the operetta Mỹ Lai those forces fuelled its composers, the musician Jonathan Berger and the librettist Harriet Scott Chessman, who conspired to bring Mỹ Lai back to life with the great Kronos Quartet, traditional Vietnamese instrumentalist Vân Ánh Vanessa Võ and the ineffably brilliant vocalist Rinde Eckert.
Ordinarily you would credit any operetta as having a fairly linear narrative line. But Mỹ Lai is no ordinary operetta. It is a revelation of an open wound in the history of the Vietnam War, one in which US soldiers' massacred 504 South Vietnamese civilians in Mỹ Lai village.
On this recording the terrifying narrative is woven into the howl of the Kronos strings and the roar of Eckert's singing – voicing several characters who were involved in or witnessed the event. Meanwhile the evocative percussion colours of Võ's instruments add an eerie contrapuntal voice, redolent of delicate tintinnabulation and ghostly echoes of mallets on metal keys,
Highly charged performances by the Kronos and Võ, employing the sound-mass textures of Berger's orchestral work and the unearthing of the naked horror in Chessman's libretto by Eckert, together make Mỹ Lai an unforgettable work of art. It is the most powerfully moving anti-war palimpsest since Picasso painted Guernica.