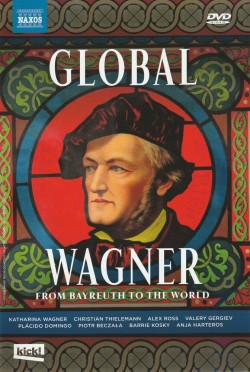 Global Wagner: From Bayreuth to the World
A Film by Axel Brüggemann
Naxos 2.110708 (naxos.com/catalogue/item.asp?item_code=2.110708)
German director/scriptwriter/filmmaker Axel Brüggemann made this documentary film almost 140 years after composer Richard Wagner's death. Brüggemann offers a look at and listen to Wagner's life, music and his Festspielhaus in Bayreuth, by exploring and filming backstage at rehearsals and performances, and including countless Wagnerite fans, international Wagner societies around the world today and individual viewpoints about the enigmatic, controversial composer. Mostly in German with no voiceovers, the subtitles in English (among other languages) are legible.
Brüggemann's journalistic documentary approach, with colourful scenic visuals throughout, is to be commended. The film opens in Venice, where Wagner lived, loving the city's calmness, with breathtaking city clips, including fascinating emotional footage from the room where he died in 1883. Then to Bayreuth with astounding aerial views. Other worldwide sites include Newark New Jersey, Riga Latvia, Abu Dhabi, Tel Aviv and Tokyo, with these city visuals complementing interviews, concerts and fans, making this a "never leave your home" trip around the world. And the background Wagner music performances are perfect!
Lots to learn from the interviews with such Wagnerites as Bayreuth artistic director /business manager Katharina Wagner, conductor Christian Thielemann, operatic bass-baritone Kevin Maynor and American music critic Alex Ross, among others. Especially fun are day-to-day commentaries from Ulrike and Georg Rauch who own a butcher shop near the festival theatre. Emotional contrasting footage is of Jerusalem-based Jewish lawyer and chairman/founder of the Israel Wagner Society, Jonathan Livny, who is quoted in the liner notes as saying "Wagner was a terrible person but he wrote heavenly music."
And viewers get up-close looks at rehearsals and performances. We see the Bayreuth orchestra musicians rehearse and set volume and dynamic levels, we watch stage hands move and place sets and hear director commentaries during sung/acted rehearsals and subsequent performance footage in the acoustically unique theatre. All are eye-opening. Lots of packed crowds of well-dressed fans of (surprisingly) all ages to see entering the theatre.
Short fragmented music, visuals and interview cuts are joined seamlessly together, making this an easy group of stories for all to follow about the world's fascination for Wagner today.