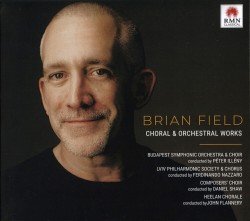 Brian Field – Choral and Orchestral Works
Budapest Symphonic Orchestra and Choir; Lviv Philharmonic Society and Chorus; Composers' Choir; Heelan Chorale
RMN Classical RMN70709 (brianfield.com)
I grew up in the Anglican tradition: high mass, chant choir in front, choir and organ in the loft behind, masses by Healey Willan, smells and bells, the lot. All this to say, "I get how American composer Brian Field can sound so English. His music is shamelessly ear-friendly, his instrumental writing idiomatic and choirs seem to revel in the beautiful sonorities he elicits from them." I'm back as a bored altar boy dozing off amidst incense and anthems. Snapping awake to assure you this is a very enjoyable recording, I take issue with one reviewer's pronouncement that Field "stretches tonality to and beyond its limits." He seems quite content within tonality's limits, whatever those are.
Choral excellence from a variety of groups sets a standard not met by the instrumentalists of the Budapest Symphonic Orchestra. While the ensemble's standards of rhythm and phrasing are acceptable, they seem casual regarding intonation; "stretched tonality" might have masked this, but Field's tonal palette deserves more care. Carping aside, Shiva Tandava is a compelling concerto grosso and makes a nice change from the very fine choral writing.
Perhaps more generous liner notes would explain how the Hindu god of destruction gets along with the reputedly benign Christian version, or at least what the title references. I'd appreciate knowing too, which choirs sing which of the various sacred (Christian) texts. His lovely setting of the Christina Rosetti poem In the Bleak Midwinter adds just a few pounds of tonal stretch to Gustav Holst's version.