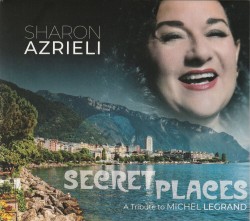 Secret Places – A Tribute to Michel Legrand
Sharon Azrieli; Tamir Hendelman
LML Music (sharonazrieli.com)
The brilliant composer and pianist Michel Legrand died in 2019, and yet his work continues to resonate – not only in the films in which his compositions were heard, but in the many fine versions of his body of work that have been lovingly interpreted by international artists, including Canadian Sharon Azrieli. The arrangements and orchestrations on this fine collection were created by pianist Tamir Hendelman and Azrieli, who also co-produced the disc with David Merrill. First up is If There Were No Dreams (with lyrics by Neil Diamond). Azrieli brings her well-seasoned, classically trained and sibilant voice to this gentle, lilting and rarely performed ballad, while Lori Bell's elegant flute and Alex Frank's sinuous bass lines intertwine with an unaffected loveliness. Another delight is Secret Places – with snappy lyrics from master wordsmith, Alan Jay Lerner, the well-chosen title track displays the irrepressible joy of Legrand's musical sensibility with a stunner of a piano solo by Hendelman and fine bass work by Frank.
Arguably, Legrand's most constant collaborators were luminous lyricists Marilyn and Alan Bergman, bringing us many memorable compositions written for an array of fine films, including Les Moulins de Mon Coeur (better known as The Windmills of Your Mind) from 1968's The Thomas Crown Affair. Azrieli renders this excellent interpretation in English, and also in flawless French, expertly capturing the romance and passion of the cinematic plot. Also with the Bergmans, in What Are You Doing For the Rest of Your Life? Azrieli evokes an aura of deep emotion and mystery here – just as Legrand intended.
Two additional stunners include Watch What Happens and I Will Wait For You – with English lyrics by Norman Gimbel. Both of these gorgeous songs appeared in the equally gorgeous 1964 film, The Umbrellas of Cherbourg and feature fine soloing from Ricky Woodard on sax and Dean Koba on drums with Frank on bass. A superlative tribute to an eternal international artist.