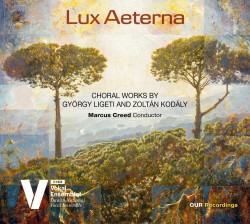 Lux Aeterna – Choral works by György Ligeti and Zoltán Kodály
Danish National Vocal Ensemble; Marcus Creed
Our Recordings 6.220676 (naxosdirect.com/search/6220676)
At first glance, the pairing of Kodály and Ligeti might seem strange, given the disparate nature of their musical works. While Kodály composed in a largely conventional yet extended tonal idiom, Ligeti is a renowned master of the avant-garde, famous for his introduction of micropolyphony and the use of his atmospheric music in the films of Stanley Kubrick. Despite this musical disconnect, both composers share close personal connections, including their Hungarian nationality. Four decades older than Ligeti, Kodály appointed his younger countryman as a teacher of theory and counterpoint at the Liszt Academy in Budapest before Soviet troops entered Hungary in 1956 and Ligeti fled to Vienna.
One of the fundamental elements underpinning this disc is the importance of folk music in Hungarian musical traditions, which was the basis of their institutional training methodologies. Indeed, it was Kodály's study and use of folksong in his compositions, which formed a new basis for musical life in Hungary. It is no surprise, then, to find that much of the material on Lux Aeterna is arrangements and adaptations of folk songs.
While Ligeti's music is often synonymous with the avant-garde, many of his folk songs are surprisingly conventional, particularly the 1955 collections written while he was still in Hungary. These songs pair exceedingly well with Kodály's more traditional fare, while the inclusion of Lux Aeterna consists of the 1982 Drei Phantasien nach Friedrich Hölderlin give listeners seeking the modernistic Ligeti repertoire something to look forward to.
The Danish National Vocal Ensemble is in fine form on this disc, embracing and showcasing the extraordinary complexity of Ligeti's modern works, the brilliant word-painting of his earlier folk songs and the late-Romantic sumptuousness of Kodály's musical settings.