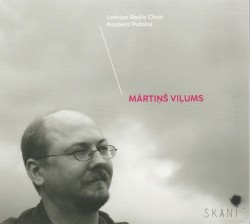 Martins Vilums
Latvian Radio Choir; Kaspars Putnins
LMIC SKANI 131 (skani.lv)
The musical heritage of the Baltic countries is rich and unique, offering a wide range of composers and works which are unlike those of any other tradition. This disc features the music of Martins Vilums (b.1974), a Latvian composer and accordionist whose material is characterized by fascinating titles and rich textures, all expertly performed by the Latvian Radio Choir and their director Kaspar Putnins.
Perhaps the most traditional piece on this disc is Vilums' Lux Aeterna, inspired by the traditional requiem text and portrayed through a wide range of timbres and layers. The use of melodies resembling Gregorian chant and Eastern Orthodox psalmodic declamation which emerge through luminescent choral textures make this work immediately appealing, especially for those familiar with Ligeti's setting of the same text.
Other works range greatly in instrumentation and theme, from the Zoroastrian cosmological text On the conflict waged with the primeval ox which features extended vocal techniques including overtones and micro-intervals, to the expansive Aalomgon for percussion, trombone, horn and 12 voices. This latter piece is perhaps the most fascinating, a mini-oratorio over 30 minutes in length and comprised of a "libretto" of syllables, arranged in a particular system by the composer, intended to resemble words of demonic conjuring and godly cursing. Aalomgon is a dense yet utterly fascinating experience, and a unique sonic expression of deeply spiritual themes.
If there is one word to best describe this disc, it may well be "abstract." While Vilums' music can certainly be experienced without guidance, the composer's words and insights are vital to achieving complete comprehension of many of these pieces. From the systemically syllabic Aalomgon to the overarching spirituality of Lux Aeterna and On the conflict waged with the primeval ox, there is much on this disc worthy of appreciation, not least of which is the monumental effort put forth by the Latvian Radio Choir.