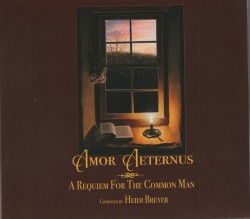 Heidi Breyer – Amor Aeternus: A Requiem for the Common Man
Various Artists
Winterhall Records WRC006 (heidibreyer.com)
Composer/pianist Heidi Breyer composed this ten-movement contemporary Requiem for chorus, vocal soloists, piano, strings, harp and horn over almost a decade. As Breyer writes, "Amor is a musical anthology of our times…" It is another musical pandemic project for the listener, this one recorded during the first year of COVID lockdowns.
Sung in Latin, Breyer composes with moving vocal and instrumental combinations. Introit opens with low-pitched strings, followed by slow choir entry. Love its haunting dark strings under the high female voices and accessible contrapuntal tonality. Breyer's virtuosic piano solo opening in Kyrie Eleison leads to a solo baritone and then full choir sorrowful lament. Another piano introduction starts Domine Jesu Christe with emotional full choral singing and colourful strings, which also are featured in the slightly faster Sanctus. Lacrimosa is especially unique with a dramatic piano part now in the forefront throughout from the opening solo introduction, orchestral lower pitch support entry, sudden faster tempo with vocals, and return to slower closing with higher vocals supporting the piano. Calming, reflective and beautiful Lux Aeterna, with its angelic vocal legato melody, piano ostinato sections and mellow instrumentals, could stand as a fully independent top-ten piece all on its own! The closing faster movement, In Paradisum, has a jubilant vocal chorus creating a hopeful closing to the entire work.
This masterpiece is surprisingly Breyers' first large-scale choral work. It is powerful, musical and brilliantly composed, performed and produced.