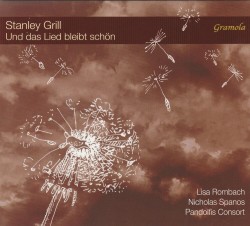 Stanley Grill – Und das Lied bleibt schön
Lisa Rombach; Nicholas Spanos; Pandolfis Consort
Gramola 90254 (stangrillcomposer.com)
"I sometimes feel I was born 500 years too late," says New York native Stanley Grill (b.1953), alluding to his "passion" for the medieval and Renaissance music that imbues his melodies and the sonorities of the Vienna-based Pandolfis Consort's four period instruments – viola d'amore, viola, cello and theorbo.
Predominantly slow, melancholy songs, composed between 2009 and 2020, traverse memory, mysticism, love, suffering and death. Viennese soprano Lisa Rombach brings poignant, expressive vibrato to settings of eight poems by Rainer Maria Rilke and three poems by Jewish women – Rose Ausländer (1901-1988), who survived the Holocaust and Selma Meerbaum-Eisinger (1924-1942), who didn't (note her dates).
Greek countertenor Nicholas Spanos hauntingly evokes a medieval troubadour in Les Fugitifs (Rilke) while projecting a more Romantic sensibility in settings of Heinrich Heine's Mit deinen blauen Augen and Ich wandle unter Blumen.
I most enjoyed seven songs in which Grill favours more contemporary melodic contours over early-music modality: Eingang and Klage (Rilke), Schnee and In jenen Jahren (Ausländer), the two Heine songs and Ein Schlaflied für dich (Meerbaum-Einsinger).
Grill channels Renaissance vibes in his three-movement instrumental Lieder ohne Worte (2009), its central Moderato providing one of the CD's rare bits of energy. The prevailing moodiness makes this a disc best suited for dipping into. I would have welcomed some more up-tempo music and a clearer acoustic; perhaps the heavy reverb was intended to simulate the ambience of a medieval cathedral. Texts and translations are included.