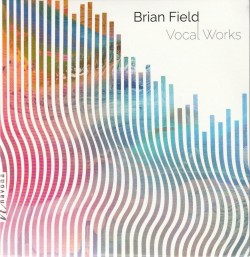 Brian Field – Vocal Works
Various Artists
Navona Records nv6360 (navonarecords.com/catalog/nv6360)
Reactions to Brian Field's Vocal Works – as well as the red-white-and-blue graphic evocative of the forbidding spires on a US/Mexican border wall – can be predicted: it's an important disc, no doubt, often dripping with sardonicism and bitterness, shrouded in the music's frequent dissonance. Gorgeous songs complemented by great choral and solo singing, however, triumph over these feelings, in a program selected and sequenced with uncommon care, with Field drawing on his consummate musicianship fuelled by hopefulness.
Field's extraordinary lyricism is deeply attuned to human emotion. Even when his music is immersed in feelings of fear, disappointment or even sarcasm – as in his adaptation of Charles Albert Tindley's poem on By and By, in the swirling music accompanying Pablo Neruda's bittersweet love poems, Tres Canciones de Amor and his own uniquely American satirical commentary in Let's Build a Wall. In those works as well as elsewhere, Field shows that he isn't afraid to wear his emotions on his sleeve, nor does he shrink away from the bitterness of social commentary.
He is also a master of atonal turbulence and semi-spoken lines describing both political and intimate interactions. Field's music in the song cycle Chimneys, Sonnets-Realities, dramatically reinvigorates the poetry of e.e. cummings with masterfully applied dissonant harmonies. The pinnacle of the recording, however, comes when Field pours his spirituality into the intense, gospel-soaked Let the Light Shine on Me.