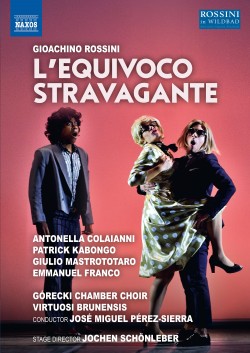 Rossini – L'Equivoco Stravagante
Antonella Colaianni; Patrick Kabongo; Giulio Mastrototaro; Emmanuel Franco; Gorecki Chamber Choir; Virtuosi Brunensis; Jose Miguil Perez-Sierra
Naxos DVD 2.110696 (naxosdirect.com/search/2110696)
The little town of Bad Wildbad, a spa, is located in the Black Forest in Germany, a very scenic holiday spot with a small, intimate opera house and a relaxed, but keen, enthusiastic audience. This performance was for the Wildbad Rossini Festival's 30th anniversary in 2018. L'equico Stravagante (Curious Misunderstanding) is Rossini's first opera, written when he was only 19, his first step toward becoming a master of bel canto and an amazing career of wealth and fame and 39 operas.
It is a two-act dramma giocoso, a farce format that Rossini got very good at, but it ran into difficulties at the premiere in Bologna because its somewhat risqué libretto offended public taste! It was cancelled after three performances and disappeared into oblivion until its present day revival. Risqué because the heroine was accused of being a castrato and a deserter to avoid military service; a curious misunderstanding indeed!
It's a silly story, but offers good theatricals and lots of funny situations. The small stage is practically bare; with ingenious lighting effects and shifting panels as a backdrop but filled with a youthful, energetic cast, headed by the primadonna mezzo-soprano Antonella Colianni and primo tenore Patrick Kabongo, all superb voices and buoyant, delightful music. Most notable are Rossini's beginning efforts of ensemble writing: duets, trios, quartets, and a beautiful quintet: Speme soave, ah, scenda. The first act finale is a real showstopper with the whole cast on stage, all singing up a total mayhem. This feature will appear in many of his later operas and become a Rossini trademark.
We must emphasize the Overture, a remarkably mature work conducted by the young, convivial José Miguel Pérez-Sierra with vigour, hugely enjoying himself.