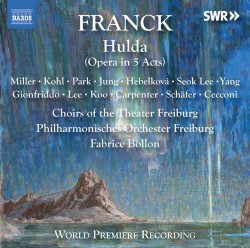 César Franck – Hulda
Soloists; Opern-und Extrachor des Theater Freiburg; Philharmonisches Orchester Freiburg; Fabrice Bollon
Naxos 8.660480-82 (naxosdirect.com/search/866048-82)
It shouldn't have taken until 2019 for Hulda to receive its first-ever complete performance, recorded here. César Franck finished his magnum opus in 1885, but died before its 1894 premiere in an abridged version, as were all its few subsequent productions.
Set in 11th-century Norway, Charles Jean Grandmougin's lurid, blood-spattered libretto was based on an 1854 play by Norwegian Bjørnstjerne Bjørnson, 1903 Nobel Prize-winner. Hulda (soprano Meagan Miller) vows revenge on her family's murderers, Aslak (bass Jin Seok Lee) and his sons. Forced to marry Aslak's son Gudleik (baritone Juan Orozco), at the wedding feast she entices the king's emissary, Eiolf (tenor Joshua Kohl), who fights and kills Gudleik. Hulda and Eiolf declare their love but when Eiolf betrays her with his former lover Swanhilde (soprano Irina Jae Eun Park), Hulda conspires with Aslak's remaining sons to kill him, and Eiolf's warriors to attack them in return. Her vengeance complete, she commits suicide.
Franck's surging, vehement score, influenced by his much-admired Wagner, features the use of leitmotifs, fervent arias, ecstatic Tristan-like love duets and many opulent choruses and dances, the orchestra often in the foreground. Conductor Fabrice Ballon drives the 15 soloists, chorus and orchestra with unremitting urgency, maintaining momentum throughout the opera's 162 minutes.
Regrettably, the 3CD set omits the French-language libretto or English translation, offering only an act-by-act synopsis (Wikipedia provides a better one). Nevertheless, I was delighted to finally hear Franck's incandescent Hulda just as he had intended.