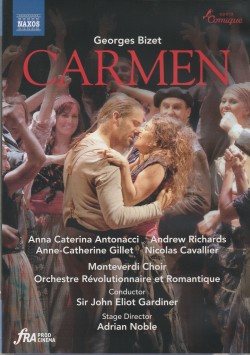 Bizet – Carmen
Anna Caterina Antonacci; Andrew Richards; Anne-Catherine Gillet; Nicolas Cavallier; Monteverdi Choir; Orchestre Révolutionnaire et Romantique; Sir John Eliot Gardiner
Naxos 2.110685-86 (naxosdirect.com/search/2110685-86)
Although Les pêcheurs de perles launched Georges Bizet's memorable career as an operatic composer, it was Carmen, composed in 1875, which left his indelible stamp on the world. Its premiere so shocked the conservative audience of opéra comique of the day that it almost discontinued its run. Yet the seductive magic that worked through the charm of its melodies, Spanish exoticism of its score and strength of its characters has made it one of the greatest, most enduring operas of all time.
This DVD, (of the 2009 film) could not have come at a better time, when most of the world's opera houses still remain closed due to an unrelenting pandemic. What makes it all the more enduring is the fact that it is a production stage-directed by Adrian Noble, with the Orchestre Révolutionnaire et Romantique and the Monteverdi Choir conducted by the great Sir John Eliot Gardiner. Of course, you couldn't ask for a better cast than soprano Anna Caterina Antonacci as the rebellious cigarette girl, Carmen, and tenor Andrew Richards as the honourable corporal in the dragoons, Don José. Or for that matter soprano Anne-Catherine Gillet as the peasant girl Micaëla and bass-baritone Nicholas Cavallier as Escamillo.
The rich colour of the choruses and orchestration plays a central role. But while Don José, Escamillo and Micaëla have fine arias, Antonacci's Carmen is the diva of this opera, nowhere more brilliantly expressed than in her Act One Habanera.