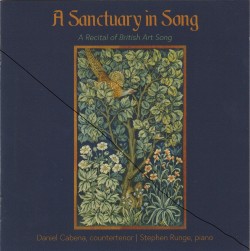 A Sanctuary in Song
Daniel Cabena; Stephen Runge
Chestnut Hall Music (chestnuthallmusic.com)
A Sanctuary in Song is a collaboration between countertenor Daniel Cabena and pianist Stephen Runge. The album follows a man's journey via the stages of life, love, loss and death. We follow him first in a prelude, and then, in his wanderings and sanctuary explorations interspersed with instrumental commentaries.
Although the repertoire is mostly curated from the English art songs of composers born in the 19th century (York Bowen, John Ireland, Roger Quilter, Charles Villiers Stanford, Peter Warlock and Ralph Vaughan Williams), other more contemporary composers are also featured (Australian-Canadian Barrie Cabena – the singer's father – as well as British-born Gerald Finzi and Edmund Rubbra). The influence of, training in, or adherence to musical practices associated with Romantic music are felt throughout the album. Runge's playing is sophisticated and elegant, all the while creating both intimate and grand pianistic expressive soundscapes for Cabena to soar above. Cabena's commitment to the texts gives life to the various layers of emotional meaning that one can find in nature, love, beauty, solitude or spirituality.
With 26 pieces of music and over 70 minutes of repertoire A Sanctuary in Song is a generous offering and a thoughtfully curated story that showcases a great number of composers and poets to (re)discover. Kudos to the Canadian duo for also featuring two compositions by Canadian composer Cabena.
A Sanctuary in Song was recorded December 12 &13, 2017 at the Maureen Forrester Recital Hall, Wilfrid Laurier University, Waterloo, Ontario.