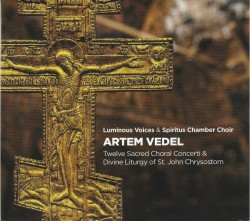 Artem Vedel – Twelve Sacred Choral Concerti
Luminous Voices; Spiritus Chamber Choir
Leaf Music LM244 (leaf-music.ca)
The choral concerto is a uniquely Eastern European form, arising in the Russian Empire in the 17th century and continuing to be written well into the 19th. In general terms, the choral concerto was defined by its multi-movement form and psalm-based texts, written for unaccompanied chorus and containing passages for full ensemble as well as soloists. While parallels can certainly be drawn between the choral concerto's form and that of the Western instrumental concerto, this similarity is more coincidence than correlation, as the developments of these like-minded styles occurred largely contemporaneously.
The most renowned and oft-performed composer of choral concertos is Dimitri Bortniansky, an Italian-trained, Russian-Ukrainian musician whose 45 concertos are considered by many to be the pinnacle of the form. At the same time as Bortniansky was putting pen to paper, another Ukrainian composer was authoring his own essays in the choral concerto style, and it is these works by Artem Vedel that are the focus of Vedel: Choir Concertos Nos.1-12 & Divine Liturgy of St. John Chrysostom.
While a relatively unknown composer in modern times, Vedel was widely respected in his homeland during his lifetime and was one of the "Golden Three" composers, along with Maxim Berezovsky and Bortniansky. Vedel's concertos are strikingly expressive yet deceptively simple, many of them written for three- or four-part chorus, and often set anguished texts from the psalms: nine of the eleven intact concertos are written in minor keys and are of a pleading, mournful nature.
Far from being pessimistic and despite Vedel's angsty outlook, there are moments of great beauty and striking optimism contained within each work, particularly as the texts turn to the goodness and saving power of God; these cadences are arguably some of the most delightful and satisfying in the oeuvre and are magnificently executed by the performers.
This double-disc collection is immense, containing over 150 minutes of material, all of it performed by the Calgary-based ensemble Luminous Voices. A seven-year project, this recording is a testament both to the compositional capabilities of Vedel and the musical skill of Luminous Voices and its director, Timothy Shantz.