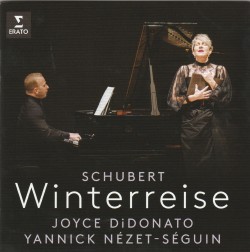 Schubert – Winterreise
Joyce DiDonato; Yannick Nézet-Séguin
Erato 0190295284245 (warnerclassics.com)
There is ample evidence, in their individual oeuvres, to suggest that luminous mezzo Joyce DiDonato and maestro Yannick Nézet-Séguin are artists of the first order; enough, it may be said, to have earned them the right to do whatever they may wish to. This recording of Winterreise, Franz Schubert's iconic and desolate song cycle, is an altogether more challenging assignment, but one that's pulled off with aplomb.
This unique duo interprets this music from the despondent woman's perspective and provides Schubert's music and Wilhelm Müller's verses with a new benchmark. This is no simple replacement of the male protagonist – the rejected lover on the verge of madness – with a female one. The lonely peregrinations of Schubert's old character through the snowbound landscape have been given dramatically new meaning by DiDonato. Müller's 24 verses speak to the mezzo in a very special way. She has, in turn, interiorized the bleak despondency of Die schöne Müllerin and recast the music's unrelenting desolation in a breathtaking new landscape of personal pain.
Meanwhile, from his vantage point in the shadows behind his piano, Nézet-Séguin conducts himself with impeccable decorum, occasionally emerging into the limelight if only to gently emphasize or provide poignant relief from the music's bleak mood. His musicianship throughout is eloquent. His astute pianism – especially in Der Leiermann – highlights and embellishes the emotional veracity of Winterreise, combining with DiDonato's darkly lustrous performance to take Schubert's magnificent art song cycle to a rarefied realm.