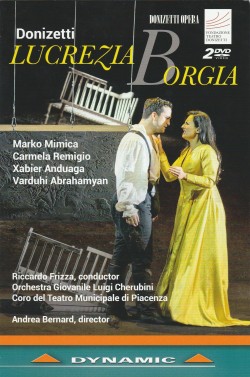 Donizetti – Lucrezia Borgia
Marko Mimica; Carmela Remigio; Xabier Anduaga; Varduhi Abrahamyan; Orchestra Giovanile Luigi Cherubini; Coro del Teatro Municipale di Piacenza; Riccardo Frizza
Dynamic 37849 (naxosdirect.com/search/37849)
Nestled on the southern slopes of the Italian Alps is the lovely small town Bergamo, birthplace of one of the great masters of Italian bel canto, Gaetano Donizetti. Lucrezia Borgia, one of his early successes, premiered in 1833 at La Scala shortly after Anna Bolena, his first major breakthrough. It is rarely performed, as it requires soloists, especially the lead soprano, of the highest calibre. Over the last century the opera went through many revisions, but it never left the stage and attracted the likes of Caruso, Gigli, Caballé, Sills, Gruberova and Sutherland for the principal roles.
The opera centres around one of the most despicable characters of the Italian Renaissance, the daughter of Pope Alexander VI, Lucrezia Borgia who murdered three husbands and is presently on her fourth, Don Alfonso, ruler of Ferrara. The story that follows is a total mayhem of horror, jealousy, vendetta, poisoning, mass murder and suicide, but the music remains one of the composer's most compelling and forward-looking scores. In fact, he is attempting to break the traditional rigid rules of bel canto by bringing the recitativo and aria closer together towards a more fluid style and expressive language, a step closer to Verdi.
The strongest feature of this memorable performance is Italian soprano Carmela Remigio in the title role. She truly carries the show with her dramatic persona, total emotional involvement, absorption into the role and a mesmerizing voice powerful in all registers. Gennaro, her illegitimate son, cause of much of her grief and anguish, is the sensational Spanish tenor Xabier Anduaga, winner of Operalia Competition 2019. Young Marko Mimica from Zagreb, Croatia, as Don Alfonso, is a powerful bass-baritone and the supporting cast is remarkable. Riccardo Frizza, master of Italian opera, conducts.