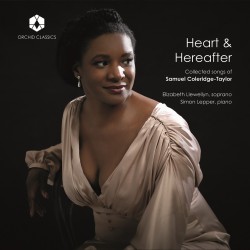 Samuel Coleridge-Taylor – Heart & Hereafter
Elizabeth Llewellyn; Simon Lepper
Orchid Classics ORC100164 (naxosdirect.com/search/orc100164)
The neglect that Samuel Coleridge-Taylor (1875-1923) seems to have suffered in his lifetime (and after) could rival that of Franz Schubert and Gustav Mahler. Moreover, like Schubert and Mahler, Coleridge-Taylor's reputation as a composer of exceptional breadth and scope is also being illuminated by the ceaseless proselytizing of a few performers – the latest being the breathtakingly agile lyric soprano Elizabeth Llewellyn together with pianist Simon Lepper.
On Heart & Hereafter Coleridge-Taylor's skill unfolds through a breathtaking array of work, from musical settings of Christina Rossetti's poetry to selections from his other songbooks, all of which constitute profound meditations in music brought to life by Llewellyn and Lepper.
Coleridge-Taylor's limitless creativity in art song is evident in the range of expression displayed in this collection. It's clear from the sweep of this music that the composer found inspiration to illuminate each subject with emotional depth and luminosity.
Throughout, Llewellyn does Coleridge-Taylor's work poetic justice. Her instrument is lustrous, precise and feather-light. Melodies are ideally weighed and measured as Llewellyn digs fiercely into the meaning of each gesture, bringing ceaseless variety, fluid dynamics and – not infrequently – a quite magical quality to her phrasing. Lepper's fingerwork is exceptional and he exhibits a gleamingly blended tonal quality in his pianism. It's hard to imagine a duo better suited to this repertoire, with both musicians bringing distinct and deeply interiorized readings to complement each other's execution of these utterly beautiful songs.