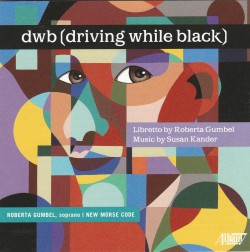 Susan Kander – dwb (driving while black)
Roberta Gumbel; New Morse Code
Albany Records TROY1858 (albanyrecords.com)
Near the end of dwb (driving while black), a woman is teaching her son to drive. "Is this car a ticket to freedom or a time bomb?" she asks herself. It's not a car crash she worries about. It's a police stop – will her son be assaulted, even murdered, because he is driving while Black?
In Roberta Gumbel's poetic libretto, scenes created from her own experiences as a Black mother alternate with hard-hitting news bulletins. The racially charged incidents these bulletins announce, from dramatically shifting perspectives, escalate from creepy encounters to vicious attacks.
Composer Susan Kander has scored this chamber opera for one singer, a cellist and a percussionist. Her imaginative exploration of this unusual combination resonates with the intensity of a full-scale opera's worth of colourful sonorities and textures. dwb (driving while black) is just 46 minutes long, and it moves quickly. But the emotional impact resonates long after it's over.
Gumbel, a soprano, sings the part she created with engaging expressiveness. In the detailed vignettes showing her loving relationship with her son, we feel the joys as vividly as the fears – through the jazzy vocalises, the tender lullabies and the theatrical monologues. Her impassioned commitment is matched by that of the versatile musicians of New Morse Code, cellist Hannah Collins and percussionist Michael Compitello.
Together they reinforce the deep sense of urgency driving this powerful work, shining some light on our fraught times.