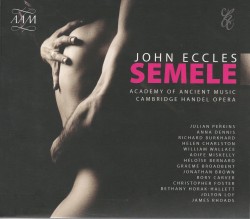 John Eccles – Semele
Academy of Ancient Music; Cambridge Handel Opera
AAM Records AAM012 (aam.co.uk)
What looks like Handel, sounds like Purcell and is a world premiere recording? If you guessed the answer to be the latest release from the Academy of Ancient Music, you win! Any mention of the words "opera" and "Semele" together immediately turns minds to Handel's frequently performed 1744 masterwork, but there is another older, lesser-known Semele living in the operatic world, written in 1707 by the English composer John Eccles.
Eccles' Semele provides fascinating insight into how opera in England might have developed after Henry Purcell's death had Handel not moved to London in 1712, for this Semele's musical vocabulary is indeed a slightly more advanced and refined adaptation of Purcell's own lexicon; if one were to select a pinnacle of the English Baroque, they would be hard-pressed to find a more representative example than this. Despite his indebtedness to Purcell, Eccles achieves even greater depths of expression and extremes of emotion than his predecessor, utilizing similar forms and expanding their structure, so that Semele ends up being more than double the length of Dido and Aeneas, for example, but without once feeling overspun.
What is most remarkable about Semele is the way in which music and text receive equal attention. The delivery of William Congreve's libretto and forward motion of the drama is never interrupted, suspended or usurped by over-composition. Director Julian Perkins and the Academy of Ancient Music in turn keep the opera moving forward, selecting tempi that lend the necessary affect to these dance-based arias and overtures while keeping the text constantly intelligible.
With world premiere recordings being issued with ever-greater frequency, it can be challenging to find those works that contribute something worthwhile to the canon, much less provide an eye-opening exploration of something revelatory, but Semele does just that. The saying "just because you can, doesn't mean you should" is correct more often than not, but in this case, we are grateful that those behind this recording could, and did.