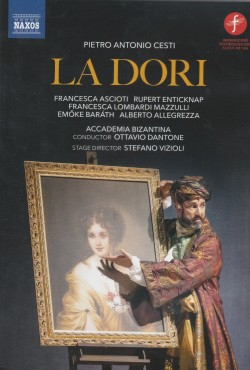 Pietro Antonio Cesti – La Dori
Ascioti; Enticknap; Mazzulli; Baráth; Accademia Bizantina; Ottavio Dantone
Naxos 2.110676 (naxosdirect.com/search/2110676)
Making peace, the Nicaean and Persian kings pledge the marriage of their infants, Dori and Oronte. In Egypt, Ardete's wife accidentally kills the king's baby daughter, also named Dori. Ardete ransoms Nicaean Dori from her pirate kidnappers, bringing her to Egypt where the king, unaware of his daughter's death, believes this Dori to be his. Years pass. Oronte, now betrothed to Dori's sister Arsinoe, visits Egypt. Inevitably, he and Dori fall in love. Fleeing Egypt to follow him, Dori is captured and, disguised as a man, becomes Arsinoe's slave "Ali," while Egyptian prince Tolomeo, in love with Arsinoe, disguises himself as Arsinoe's female slave "Celinda." All this happens before the curtain rises! The ensuing comedy-drama of concealed identities is no less convoluted until all ends joyfully.
La Dori was a 17th-century hit, with over 30 productions throughout Italy. This 2019 production in Innsbruck, site of its premiere in 1657, is as unrealistic as the libretto, with timelessly indeterminate sets and costumes, stage director Stefano Vizioli contributing innumerable comedic touches.
Cesti's richly melodic, often beautiful score mixes frivolity with pathos, vigorously performed by Accademia Bizantina conducted by Ottavio Dantone. Mezzo-soprano Francesca Ascioti (Dori), countertenor Rupert Enticknap (Oronte) and sopranos Francesca Lombardi Mazzulli (Arsinoe) and Emőke Baráth (Tolomeo) head the excellent cast of eight soloists.
With its fine music and singing, La Dori is a pleasure to listen to and its silly goings-on make it great fun to watch as well.