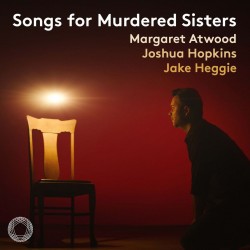 Jake Heggie; Margaret Atwood – Songs for Murdered Sisters
Joshua Hopkins; Jake Heggie
PentaTone PTC 5186270 (songsformurderedsisters.com)
In collaboration with Margaret Atwood and Jake Heggie, Canadian baritone Joshua Hopkins delivers both a call to action and a powerful homage to his sister Nathalie Warmerdam, a victim of domestic violence.
With a concept inspired by Schubert's Winterreise, Songs for Murdered Sisters follows Hopkins on his journey of seven short songs: Empty Chair, Anger, Dream, Bird Soul, Lost, Rage and Coda: Song. Hopkins is beyond moving in his vulnerability and willingness to address the complicated and disorderly feelings of grief, the grieving process, and the loss of a loved one under tragic and violent circumstances. Atwood's experience in writing opera libretti comes through with evocative and heartrending singable texts: Who was my sister is now an empty chair… You opened the door… I was too late… so many sisters lost. Heggie's seasoned writing skills are also on display throughout, especially in the setting of texts, the skillful use of Hopkins' vocal register and colours, the compelling dynamic choices, and, most powerful, the deafening silences.
With this 27-minute song cycle, Atwood, Heggie and Hopkins use their collective voices to raise awareness about violence against women from an intimate or former partner. In the film version of Songs for Murdered Sisters, Warmerdam's Empty Chair eventually turns into hundreds more chairs, a powerful statement representing the countless women lost to gender-based violence. Hopkins invites the listener to take the white-ribbon pledge to end violence against women and girls (whiteribbonsisters.com).
Co-commissioned by Houston Grand Opera and Canada's National Arts Centre, Songs for Murdered Sisters is offered in digital format. The NAC plans to premiere an orchestral version when concert halls reopen.